Apple may launch low-cost MacBook to compete with Google's Chromebooks: Report
Apple is said to launch a new low-cost MacBook in 2024. The price of the budget MacBook is expected to be very lower than current Air series. The launch is tipped to take place in the second half of next year.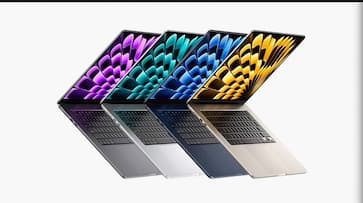 Can't afford Apple MacBooks? According to a recent rumour from DigiTimes, the tech giant intends to release a low-cost laptop to compete with Google's Chromebooks and a number of budget Windows laptops. This MacBook may be unveiled as soon as the second half of 2024, according to reports. Apple currently has laptops for sale that cost at least Rs 80,000. What could the ultra-affordable MacBook cost, then?
The majority of Chromebooks available on Flipkart and Amazon are priced around Rs 30,000, as can be seen by looking at their product pages. Does this imply that Apple will price its entry-level MacBook similarly given that Chromebooks are marketed towards those on a tighter budget who want a laptop for casual use or for use in the classroom? Although the rumour did not specify a specific price range, it seems improbable that Apple would provide a laptop at such a cheap price.
Also Read | Google Pixel Watch 2 to launch in India along with Pixel 8 series | WATCH
There was a lot of enthusiasm when it was announced that Apple will introduce its first affordable iPhone in the SE series. Some people who had hopes lower than Rs 30,000 were disappointed by the fact that it was not as inexpensive for everyone. India saw the debut of the first-generation iPhone SE at Rs 39,000, and the country also saw the announcement of the second model for Rs 42,500. In 2022, the iPhone SE 3 went on sale at Rs 43,900. Despite the fact that the pricing didn't match the low-cost features given by these phones, many people nonetheless purchased them because they desired an iPhone.
People could still purchase the company's budget-friendly MacBook even if it costs a little more than the Chromebooks because it is an Apple product. Along with a high-quality product, consumers will receive brand assurance. The ability to instantly share files via AirDrop, sync conversations or messages on a MacBook, utilise the phone as a camera for the laptop, and more will be made easier for iPhone owners.
Also Read | Apple Watch series 9 may get new processor chip, better heart rate sensor & more
If Apple genuinely intends to compete with Chromebooks to appeal to customers on a tighter budget, the cost may range from Rs. 45,000 to Rs. 60,000. The current budget-friendly MacBooks are from the Air series and start at about Rs 80,000. Users are urged to take the information with a grain of salt as Apple hasn't officially confirmed the existence of an ultra-affordable laptop.
Last Updated Sep 10, 2023, 5:06 PM IST