World Environment Day: 6 movies that give you glimpse of the Climate in various forms
World Environment Day 2023: With the Climate Crisis, films anticipate the future, analyse the past and bring the audience a spectacle that would show them a version of what the nature may Be. By Mahalekshmi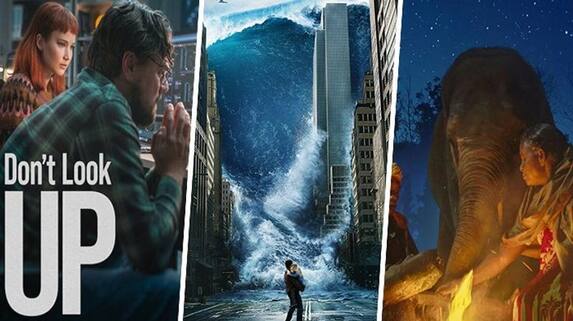 The Climate Crisis grips the world. Every industry works towards bringing information to the people through their own medium. The film industry has worked at creating versions of nature to show the adverse effects on the environment. This Environment Day, let us look at a few films that focus on the various iterations of nature.
Don't Look Up (2021)
We know that an Asteroid attack is different from an Environmental Crisis. However, the change in nature is one to be explored. In this Adam McKay ensemble Comedy of a star cast that includes Leonardo DiCaprio, Meryl Streep, Jennifer Lawrence and many more, we see how ignoring the change in nature shapes events.
Also Read: Nora Fatehi reveals she was told to be 'future Katrina Kaif' when she joined Bollywood
Geostorm (2017)
This Dean Devlin Directorial stars Gerard Butler in the lead. To control the catastrophic Climate change that occurs, The Dutch Boy Program is created. This is a series of Satellites that keep the climate in check. But a malfunction brings a technician to race time in order to ensure Earth's safety. This is definitely a ride into nature.
Kadvi Hawa (2017)
Inspired by the true events from Bundelkhand region, we see the village of Mahua affected by scanty rainfall, barren land, crop failure, and climate change. This results in frequent Farmer Suicides. A perfect depiction of how climate change affects not only people's lives, but also their morals.
The Elephant Whisperers (2022)
This Oscar-winning documentary explores the relationship between a couple in South India and an orphaned baby elephant named Raghu. This short-film tests the relationship between familial ties and is a testament to the bond between humans and animals. Alongside co-existence, we also look at the tradition of Environment conservation and Animal preservation.
Also Read: 'Stardom': Shah Rukh Khan turns cheerleader for son Aryan Khan's debut show
Irada (2017)
With the backdrop of Bathinda and its thermal power plants and factories, we see the characters exploring the reason for a disease affecting the villagers. This results in figuring out how chemical contamination in the groundwater may be the reason. With a great cast, including Naseeruddin Shah and Arshad Warsi, this is one of the best Bollywood films on the environment.
The Day After Tomorrow (2014)
Following the story of Paleoclimatologist Jack Hall, we see how the outbreak of a sudden storm plunges the environment into a new Ice Age. We see how nature shifts in response to this change, trapping people in their places and forcing them to take drastic measures. The lead takes on a journey to save his son, who is trapped in those conditions.
Dark Waters (2019)
A legal-thriller film, it stars Mark Ruffalo and Anne Hathaway in dramatising the story of Robert Bilott, who exposes a chemical manufacturing firm that contaminated drinking water in a town and caused several unexplained deaths. The perfect film that focuses on fighting for the right cause in concern of the environment.
Last Updated Jun 4, 2023, 5:54 PM IST