Why did Seema Sajdeh divorce Sohail Khan? Is it due To 'other women'? Read this
Fabulous Lives of Bollywood Wives star Seema Sajdeh revealed that although the divorce was filed last year, she and Sohail had been separated for quite a few years.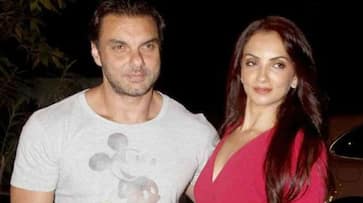 Last year, Seema Sajdeh filed for divorce from Sohail Khan. After 24 years of marriage, Seema and Sohail were forced to divorce for various reasons. Seema recently appeared on Karan Johar's Fabulous Lives of Bollywood Wives, where she discussed life after her divorce and revealed that she and Sohail are still on good terms. Seema recently talked candidly about her divorce on a podcast.
"My father comes from a school of thought where he felt, 'Now who will look after my daughter?'" the fashion designer stated in an interview with Shivani Pau. Divorce has a shame, particularly in our Indian society. People say things like, "Oh she used him and that family for as long as she needed to, got where she wanted to get, and now she wants to be free," since social media is so prevalent in today's world. I thought to myself, what just occurred here? However, I also encountered some kind individuals, so I decided to concentrate on that and felt inspired.
Also Read: Tiger 3: Salman Khan fans gear up for movie release; wear his iconic scarf in excitement
She added, "Why should I blame him? It suited both of us. Our son Nirvan was at that age where he didn't want it but there came a time when I had to choose between my marriage and my son. My son was going down a path that I was very scared of. One morning I woke up and realised that either I focus all my energies on saving this marriage, or my son. That's when I decided and chose him."
Seema also said, "Some people say all sorts of things, that I felt because of other women, that's the most common one. But no, I made a choice. When two people are in a situation where both of them are not happy, when there is constant fighting, the fallout is always the kids. You don't realise that in that phase of your life, time passes so quickly, kids grow up quickly, and you don't realise when you have done damage there (on the kids). The kids are collateral damage. So, it was a conscious decision for him."
Also Read: Canadian singer Shubh celebrates Indira Gandhi's killers in viral video - WATCH
Seema disclosed that despite filing for divorce last year, she and Sohail had been living apart for a number of years. She said that her son Nirvan's statement that "Mumma, I am okay now, you can go ahead" was the primary reason she filed for divorce.
The third season of the show will include Seema shortly. Filming has started in Mumbai and Delhi.
Last Updated Oct 31, 2023, 5:39 PM IST