Sonu Sood slams a man to spit gutka in a viral video, says, 'Chal gutka phaink udhar' - WATCH
In a recent amusing video post, the Singh Is Kinng fame Bollywood star Sonu Sood slammed a man for spitting gutka in a viral video. He told the man, 'Chal gutka phaink udhar.'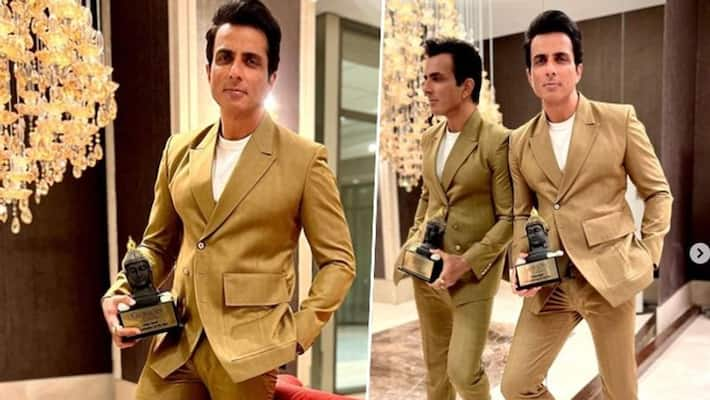 He spreads love, happiness, and joy wherever he goes. Sonu Sood is fondly known as the messiah of the poor and needy. He was traveling in his car when he stopped by a a tea / coffee stall for a short break. Winning hearts, he interacted with a couple of people there and schooled a man chewing Gutkha asking him to spit it out. Here's what exactly happened.
He asked the boy making coffee in the shop what he was doing. He then asked him if he gets customers late in the night since it was around 11 pm. The boy, whose name was Akshay, tells him he has sold about 200 cups of coffee already.
ALSO READ: ELLE India Graduates: Tamannaah Bhatia, Vijay Varma, and many more look stylish at the event
Sonu Sood was asking Akshay, "Kitne subah se cup bechein hain tune?". On this, Akshay said, "Subah se 200 -300." This is the moment during the entirely hilarious and awareness-filled conversation when Sonu Sood jokes if he will make him his partner. Sonu shedding more light on the same, said, "Mujhe partnership dede re. Kya naam hai teri shop ka." The boy named Akshay tells him he has named his tea stall Talaf Paan. Sonu then starts interacting with the people standing on the side. He asked, "Aap kya karte ho dada?".
As he spoke to them during the course of the conversation, Sonu Sood had aptly figured out that one of them was chewing Gutkha constantly. Sonu Sood decided to make that man come on the right path. Deciding to make that man leave this dangerous vile habit of chewing gutkha, Sonu said, "Abey Gutkha kyu khata hai bey."
Sonu did not stop at only this. He also added, "Band kar gutkha khana. Chal Gutka phaink udhar." After listening to Sonu Sood's strict order laced in a humorous yet awareness-filling way, fans saw that Naagesh went ahead and spat the gutka in his mouth at the road. After Naagesh went and spat the gutka, Sonu Sood said, "Naagesh aaj ke baad Gutkha nahi khana. Band karega pakka?."
The video went viral after getting posted by Sonu Sood on his official Instagram handle. "Ajay devgan ko nuksan kyu pahuch rahe ho vimal thukwa diya," said a fan. "When Sonu Sir told that guy to Spit out the Gutka he won my heart," said another fan. "5 ka nuksan ho gya us bichare ka," added a fan.
ALSO READ: Spotted: Shah Rukh Khan, Malaika Arora, Kartik Aaryan, Pashmina Roshan, and other celebrities
Last Updated Jan 16, 2023, 6:22 PM IST