Pushpa 2 Vs Singham 3? Is Ajay Devgn upset with Allu Arjun over their films' release date? Read this
Is Ajay Devgn annoyed that Allu Arjun did not even contact him to discuss a possible box office conflict between Pushpa 2 and Singham Again? As pet reports, both Pushpa 2 and Singham 3 will clash on August 15, 2024.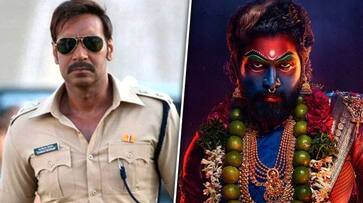 Pushpa 2's producers have revealed that the Allu Arjun-starrer will be released on August 15, 2024. It is the same day that Rohit Shetty had Singham 3 scheduled, starring Ajay Devgn. However, it has now been claimed that both Rohit and Ajay are displeased with Allu Arjun's choice and would likely postpone the release date of Singham Again. According to the latest reports, multiple discussions were conducted in Rohit Shetty's office in Mumbai in the previous few days, and it was agreed to postpone Singham 3 to prevent a box office conflict with Pushpa 2: The Rule.
"Neither Rohit Shetty nor Ajay Devgn are egoistic to stick to a date that hampers the business prospect for their own film. Of course, they were upset with the decision of Allu Arjun to arrive uninformed at a date already announced by a potential blockbuster like Singham, but then, they don't wish to go the same route as Pushpa team by going in a clash scenario," a source cited by the entertainment portal claimed.
"At times, larger good of industry is to be seen. Both Pushpa and Singham are potential blockbuster films in Hindi and them arriving on the same date makes no sense. Ajay and Rohit have collectively decided to shift ahead and let Pushpa team take the date. The actor director duo believe that Pushpa 2 needs the packaging of a holiday to arrive whereas Singham Again is such a humongous brand that it can arrive on any day without any holiday and score records. They don't want to harm the business of Pushpa and at the same time, don't want to harmed," the source added.
According to reports, Ajay Devgn is irritated that Allu Arjun did not even contact to discuss a possible box office conflict between Pushpa 2 and Singham Again.
Singham Again, starring Ajay Devgn, will hit theatres shortly. Pushpa 2 filming, on the other hand, is now ongoing in Hyderabad.
Last Updated Sep 13, 2023, 12:02 PM IST