Shehnaaz Gill looked lost during 'Honsla Rakh' press meet; Diljit Dosanjh tries to bring a smile on her face
Shehnaaz Gill was recently seen at Honsla Rakh's press conference where she was silent but yet strong; her co-stars Diljit Dosanjh and Sonam Bajwa tried to cheer her up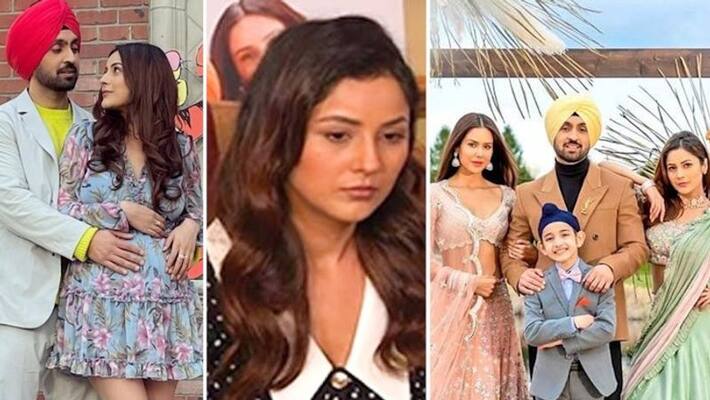 Shehnaaz Gill recently made her first appearance with Diljit Dosanjh and Sonam Bajwa at Honsla Rakh's press conference post her rumoured beau Sidharth Shukla demise. She was also doing some gigs with Diljit Dosanjh, which he shared on his social media pages. The movie Honsla Rakh was shot in Vancouver, Canada, earlier this year.
Shehnaaz Gill was out of action since she lost her alleged boyfriend Sidharth Shukla, Bigg Boss 13 winner. On September 02, Sidharth passed away, leaving his fans and friends shocked. Since then, Shehnaaz Gill was also not seen and kept a low profile for more than a month.
Also read: Has Shehnaaz Gill stepped out of the house post-Sidharth Shukla's death? Here's what reports say
Now, to promote her Punjabi film 'Honsla Rakh' she came out in public along with her co-stars Diljit Dosanjh and Sonam Bajwa for the promotions. But, what caught everyone's attention was the sadness in Shehnaaz Gill's eyes.
Also Read: What is Shehnaaz Gill doing? How is she after Sidharth Shukla's passing? Read on
A user wrote, "BEHIND HER SMILE IS HURTING HEART..BEHIND HER LAUGH SHE IS FALLING APART..WE CAN C HER HEART IS HEAVY YET SHE HELD HER BROKEN SELF & HIDING HER TEARS..TRYING 2 MAKE HERSELF WHOLE AGAIN WE HAVE 2 GIVE HER POWER & BE #ShehnaazGiII SUPPORT."

Diljit shared a fun video as a promotional gig with Shehnaaz in which they act on the dialogue, "Two leaves of the pomegranate in the rainy weather. Hug me, hug me soniye." At the end, Shehnaaz gets annoyed by Diljit's reaction and leaves.
Another Twitter user wrote, "Looks like diljit tried to cheer up shehnaaz in the interview...that's so sweet of him and really proud of her. I always knew she is stronger than what we think. Lots of love sweetiee." A user wrote, "That shine on her face is missing. If you can't feel the sadness thru her voice & her eyes, Sending her alot of love and positive vibes Please don't judge her."

Another wrote, 'She tries to hide her pain but it's not possible she knows very well', one said, 'Her EYES SHOWING her pain. STAY Strong God bless You Always Dear.' Another one wrote, 'She is TRYING. And that much makes all the difference. I always knew she would be strong and be back. But she is even stronger than I expected.'
 
Daljit Thind and Pawan Gill produce Honsla Rakh along with Diljit Dosanjh. The movie is directed by Amarjit Singh Saron and written by Rakesh Dhawan. The director of photography (DOP) is Baljit Singh Deo. The film will release on October 15, 2021.
Last Updated Oct 11, 2021, 3:54 PM IST