Shah Rukh Khan turns 58: 6 lesser-known films of global icon
Ruling over the hearts of global fans across the globe and celebrated worldwide for his nuanced and phenomenal performances in films like Pathaan, Jawan, Raees, Zero, Dilwale, Kabhi Alvida Na Kehna, My Name Is Khan, and so on. The undisputed emperor of Bollywood, Shah Rukh Khan, turns 58 today. Here is a glance at the six lesser-known films of the global icon.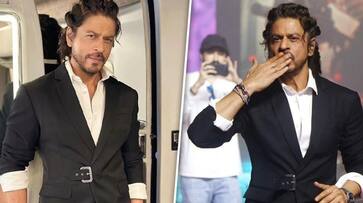 Shah Rukh Khan is an Indian actor and producer who works in Hindi films. Referred to in the media as the Baadshah of Bollywood and King Khan, he has appeared in more than 90 films and earned multiple accolades, including 14 Filmfare Awards. He has been awarded the Padma Shri by the Government of India, as well as the Ordre des Arts et des Lettres and Legion of Honour by the Government of France. Khan has a significant following in Asia and the Indian diaspora worldwide. Talking about the audience size and income, several media outlets have described him as one of the most successful film stars in the world. The undisputed emperor of Bollywood, Shah Rukh Khan, turns 58 today. Here is a glance at the six lesser-known films of the renowned global icon.
ALSO READ: Is Mrunal Thakur getting married to THIS Telugu actor? Here's what we know
1. Kabhi Haan Kabhi Naa (1994):
In this coming-of-age film, Khan portrays the character of Sunil, a charming and carefree young man who struggles to win the love of his life. His performance was critically acclaimed, showcasing his versatility early in his career.
2. Hey Ram (2000):
In this historical drama directed by Kamal Haasan, Shah Rukh Khan essayed a brief yet impactful role as Amjad Ali Khan, a close associate of Mahatma Gandhi. Despite the limited screen time, his performance was noteworthy.
3. Chak De! India (2007):
While the movie received widespread acclaim, Khan's role as Kabir Khan, a disgraced former hockey player turned coach of the Indian women's national hockey team, was ignored. His powerful portrayal of a determined coach trying to overcome prejudices is one of his best performances.
4. My Name Is Khan (2010):
In this drama, Khan played Rizwan Khan, a man with Asperger's syndrome who embarks on a journey to meet the President of the United States. His nuanced performance received praise from both critics and audiences.
5. Fan (2016):
In this thriller, Khan played dual roles – Aryan Khanna, a Bollywood superstar, and Gaurav Chandna, his obsessive fan. His portrayal of the obsessed fan was particularly notable, showcasing his acting prowess in a complex character.
6. Dear Zindagi (2016):
In this film, Khan plays Dr. Jehangir Khan, a therapist who helps the protagonist, played by Alia Bhatt, navigate her life's challenges. His role as a compassionate therapist was a departure from his typical romantic hero roles. His performance was raved about and applauded by the critics and viewers.
ALSO READ: Karwa Chauth 2023: Shilpa Shetty begins celebration; shares video of Sargi thali
Last Updated Nov 2, 2023, 7:00 AM IST