Shah Rukh Khan's daughter Suhana Khan left home at 15; says studying abroad was 'a cultural shock'
Shah Rukh Khan and Gauri Khan's daughter, Suhana Khan, who is set to debut in Zoya Akhtar's 'The Archies', talk about her experience while studying abroad at her co-star Koel Purie's book launch. - By Mahasweta Sarkar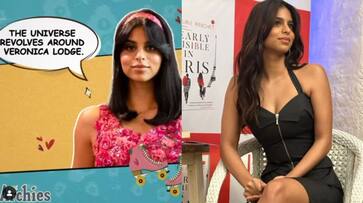 Bollywood icon Shah Rukh Khan's daughter, Suhana Khan, is poised for her Indian film debut in Zoya Akhtar's 'The Archies'. Prior to the movie's release, Suhana has garnered significant spotlight for her appearances at prestigious gatherings. Notably, she graced Koel Purie's book launch in Mumbai, where she discussed 'Clearly Invisible In Paris', reflecting on her own experience of embarking on overseas studies at 15. Suhana's emergence as a special guest has fueled anticipation for her cinematic entry, adding to her burgeoning fame even before her debut on the silver screen.
At the book launch, Suhana Khan delved into her connection with a character from the book. Regarding her own experience of venturing abroad for education, she revealed studying in both the United Kingdom and New York. Suhana emphasized that it was the bonds of camaraderie and the people she met that truly defined her sense of home, transcending the geographical locations.
ALSO READ: Alia Bhatt faces anger as netizens accuse her of 'lying' after old video of 'lipstick' goes VIRAL
As per reports, elaborating on her time abroad, Suhana Khan said, "I wouldn't call myself an immigrant and all. I went there to study. I left home when I was 15 for boarding school, so I think that was scary because it was definitely a culture shock, and I think it took me a while to feel at home, and when I did, it was because of the people there and how their friendship, their love made me feel seen when I felt invisible."
Koel Purie will also be seen in  'The Archies' ensemble, alongside fellow lead cast members including Khushi Kapoor, Agastya Nanda, Mihir Ahuja, and Vedang Raina, along with Suhana Khan. The actress and author told in an interview, "Suhana will be helping me launch my book in Mumbai. She has become a good friend, as are Agastya, Khushi, and Vedang. It was really really fun to work with them. They are good kids ….I sound like such an aunty saying that! I am never an aunty, but these kids….they are very focused."
Zoya Akhtar's film "The Archies," an Indian adaptation of the beloved Archie Comics, is scheduled to premiere on Netflix on November 24, 2023. The story is set in the fictional hill station of Riverdale, an Anglo-Indian enclave, during the year 1964. Suhana Khan will portray the character Veronica Lodge in the movie.
ALSO READ: WATCH: Japanese ambassador grooves to 'Kaavaalaa' with popular YouTuber; dedicates it to Rajinikanth
Last Updated Aug 17, 2023, 11:24 AM IST