Same- Sex Marriage verdict: Bhumi Pednekar, Celina Jaitley express disappointment over Supreme Court ruling
Supreme Court refused to legalize same-sex marriage, leaving it to the Parliament. Actress Celina Jaitly expressed disappointment, while Bhumi Pednekar also opposed the decision. The five-judge bench had varying opinions, with two judges supporting recognition of same-sex unions and adoption rights. This followed petitions challenging marriage laws by LGBTQ+ activists
India's Supreme Court delivered a verdict that declined to legalize same-sex marriage in the country. The decision was made by a unanimous five-judge constitution bench, which asserted that there was no inherent right to marriage in the constitution. The bench delegated the responsibility of legislating on same-sex marriage to the Indian Parliament. In response to this ruling, the prominent actress and LGBTQ+ activist, Celina Jaitly, expressed her disapproval.
In an interview Celina Jaitly criticized the Supreme Court's stance on same-sex marriage. She stated, "The recent marriage verdict by the Supreme Court is undoubtedly disheartening. Throughout my 20-year journey as an LGBT activist, I've consistently emphasized that the LGBT community merely seeks the same fundamental rights enjoyed by all other Indian citizens."
She further emphasized, "The right to marriage and family is one of the most fundamental human rights. Therefore, I earnestly hope that the Parliament will take the initiative to amend the Special Marriages Act and make it inclusive for all genders."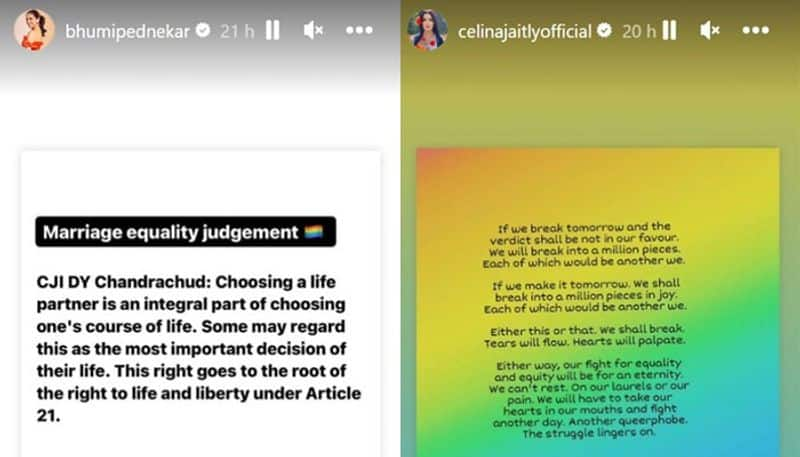 Additionally, Celina added, "On a positive note, the court did acknowledge its commitment to exploring the rights and benefits that can be extended to queer couples. I see this as a step in the right direction, acknowledging that progress takes time."
Bhumi Pednekar, known for her role as a lesbian character in the film 'Badhaai Do,' has consistently supported same-sex marriage. She voiced her dissatisfaction with the Supreme Court's decision by sharing screenshots of the verdict on her Instagram account.
The Supreme Court's verdict on same-sex marriage was marked by differences among the five judges. Chief Justice of India DY Chandrachud and Justice Sanjay Kishan Kaul advocated for the recognition of same-sex unions and emphasized the need for anti-discrimination laws to protect LGBTQ+ individuals. Moreover, they argued for the right of same-sex couples to adopt children. However, the five-judge bench was divided on the issue of adoption by same-sex couples, with a 3:2 majority ruling against it in four separate judgments.
This momentous decision followed the consideration of 20 petitions filed by various same-sex couples, LGBTQ+ activists, and transgender individuals. These petitions challenged the provisions of the Special Marriage Act of 1954, the Hindu Marriage Act of 1955, and the Foreign Marriage Act of 1969, with the aim of securing recognition for non-heterosexual marriages. However the court limited it's study only to Special Marriages Act 1954 as it did not want to touch upon personal laws.
Last Updated Oct 18, 2023, 9:42 AM IST