Reel coach Shah Rukh Khan reacts to Real coach Sjoerd Marijne's tweet post women's hockey team's victory
Shah Rukh Khan could not help but channel is his inner coach from 'Chak De India' as he reacted to Sjoerd Marijne's tweet; here's what he wrote.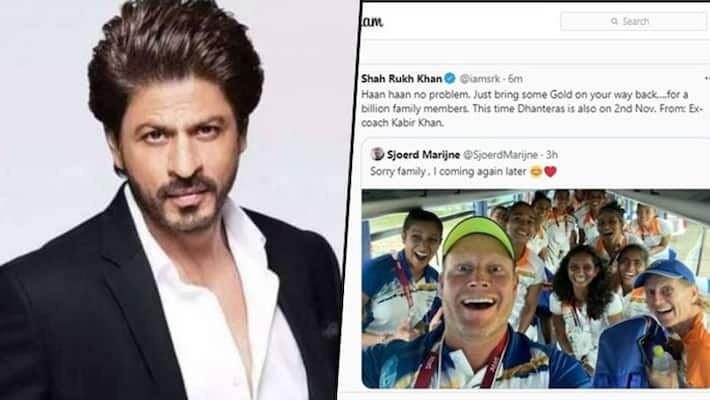 After the historic win of the Indian women's hockey team in the Tokyo Olympics 2020, the team have found appreciation in Bollywood actor and reel coach Kabir Khan aka Shah Rukh Khan.
While several Bollywood celebrities took to their social media handles to appreciate win of the women's hockey team's performance at the Olympics, Shah Rukh had perhaps the best response to coach Sjoerd Marijne's tweet post winning the match.
Sjoerd Marijne took to his social media account to inform his fans that he will be coming home later than expected. The Indian team is now scheduled to face Argentina in the semifinals on August 4.
Sharing a picture with his players, he wrote, "Sorry family, I' m coming again later (sic0."
Shah Rukh Khan, who played the role of Kabir Khan, the coach in the Indian Hockey drama Chak De India, had a witty response to the tweet.
He wrote, "Haan haan no problem. Just bring some Gold on your way back. for a billion family members. This time Dhanteras is also on November 2 From: Ex-coach Kabir Khan (sic
The match between India and Argentina will take place at the Oi Hockey Stadium.
Last Updated Aug 2, 2021, 5:25 PM IST