Ranbir Kapoor's surprise dance to 'Channa Mereya' at Arijit Singh concert sets stage ablaze [WATCH]
Ranbir Kapoor surprises fans by dancing to Channa Mereya at Arijit Singh's concert, igniting a viral sensation. He's gearing up for the release of 'Animal' and has exciting projects on the horizon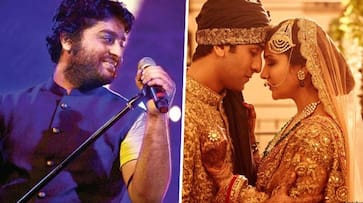 Ranbir Kapoor, renowned for his iconic song 'Channa Mereya' from the movie Ae Dil Hai Mushkil, made a surprise appearance at an Arijit Singh concert, setting social media abuzz. The emotional track, originally sung by Arijit Singh, has resonated with countless heartbroken souls. Ranbir Kapoor delighted the audience by not only singing along but also dancing to the memorable Channa Mereya steps, leaving the ecstatic crowd in a frenzy.
At a recent Arijit Singh concert, Ranbir Kapoor decided to spice things up for his fans. Instead of the usual wave-and-sing routine, he took it up a notch by showcasing his legendary Channa Mereya dance move, which sent the audience into a wild state of enthusiasm.
ALSO READ: 'Dunki' Drop 1 bash: Does Shah Rukh Khan personally answer 'ASK SRK' questions? Here's what he said
Ranbir didn't stop at Channa Mereya; he also joined Arijit for a spontaneous jam on 'Rasiya' from the movie Brahmastra: Part One – Shiva.
Another heartwarming moment from the concert was captured in a video circulating on social media, where Ranbir Kapoor and Arijit Singh shared a gesture of respect, bowing down to each other. Worth noting is that Arijit performed 'Satranga,' a song from Ranbir's upcoming film 'Animal,' during the concert. This performance marked Ranbir Kapoor's grand entrance onto the stage.
Ranbir Kapoor is currently in the spotlight as he prepares for the release of his upcoming film 'Animal,' scheduled for December 1, 2023. Interestingly, this release date coincides with the release of Meghna Gulzar's 'Sam Bahadur,' featuring Vicky Kaushal.
Moreover, Ranbir has some other exciting projects in the pipeline, including Ayan Mukerji's 'Brahmastra: Part 2 - Dev.' There have also been discussions about his potential involvement in Madhu Mantena's 'Ramayana Trilogy' and Anurag Basu's 'Kishore Kumar biopic.'
ALSO READ: RARKPK: Did Shahbana Azmi want to remove her makeup in funeral scene? Here's what Karan Johar revealed
Last Updated Nov 5, 2023, 9:13 AM IST