RARKPK: Did Shahbana Azmi want to remove her makeup in funeral scene? Here's what Karan Johar revealed
Karan Johar shared an amusing anecdote from his film "Rocky Aur Rani Kii Prem Kahaani," revealing Shabana Azmi's concern about makeup during a funeral scene, highlighting the balance between realism and cinematic clarity. The film marked Johar's successful return to directing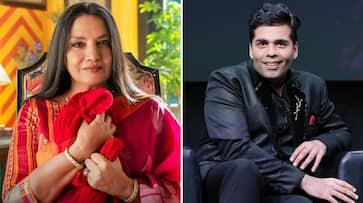 Karan Johar made a triumphant return to the director's chair with his recent film, "Rocky Aur Rani Kii Prem Kahaani," featuring the talented ensemble of Ranveer Singh, Alia Bhatt, and Shabana Azmi. The film achieved both critical acclaim and commercial success, marking a significant milestone in Karan Johar's filmmaking journey. During a recent conversation Karan Johar shared insights into his approach to filmmaking and offered an interesting anecdote from the making of the movie.
Johar expressed his perspective on filmmaking, emphasizing that he isn't always fixated on depicting absolute reality in his films. He highlighted an amusing incident involving Shabana Azmi, a renowned actress known for her commitment to her roles and attention to detail.
In the film, there was a scene where Shabana Azmi's character had to prepare food. However, Azmi was particularly concerned about looking pitch-perfect even while portraying the act of cooking. This concern for appearance during such a commonplace activity showcased her dedication to her craft.
ALSO READ: 'Dunki' Drop 1 bash: Does Shah Rukh Khan personally answer 'ASK SRK' questions? Here's what he said
Johar went on to recall another memorable sequence in the film, a funeral scene, in which Azmi's character was expected to appear as though she had just lost a loved one. However, Shabana Azmi had a unique request for this scene. She asked if she could remove her makeup to create a more authentic look, as one would when grieving for a departed family member.
ALSO READ: 'Dunki' new poster OUT: Shah Rukh Khan, Vicky Kaushal, Taapsee Pannu, and others on journey to fulfill dreams
Karan Johar, known for his meticulous attention to detail in filmmaking, shared his perspective on the matter with Azmi, suggesting that they strike a balance between preserving a certain level of makeup for the camera's clarity and ensuring a realistic portrayal. However, Shabana Azmi expressed her view that the quest for complete reality might be taken too far in this context.
Last Updated Nov 4, 2023, 5:52 PM IST