Pushpa 2 The Rule: Global platform features National Award winner Allu Arjun; provides sneak peak of sets
Instagram Global captures Allu Arjun's global stardom as they unveil a sneak peek into "Pushpa 2: The Rule." Amidst a tour of his home and routine, Allu Arjun emphasizes family and dedication to entertaining fans and audiences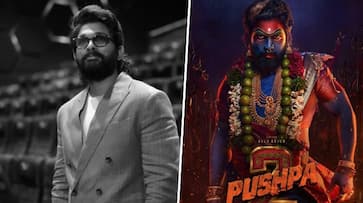 Superstar Allu Arjun has achieved a momentous feat at the 69th National Film Awards, becoming the first Telugu actor to secure the esteemed award for Best Actor. This significant national recognition is yet another feather in the cap for the iconic actor, who has also elevated India's reputation globally through the massive success of his film "Pushpa: The Rise." This achievement is not just a beginning but a remarkable milestone in Allu Arjun's illustrious career. It has prompted Instagram's global account to delve into the life of this pan-India star, generating considerable buzz for the highly anticipated sequel, "Pushpa 2: The Rule," by sharing an exclusive glimpse of the upcoming film.
Instagram, the world's largest social media platform, has made its way to the doorstep of the iconic sensation, Allu Arjun, to provide an exclusive insight into the realm of Pushparaj. This remarkable event stands as a true testament to Allu Arjun's immense global popularity, prompting Instagram to unveil an initial sneak peek into the world of "Pushpa 2: The Rule." During Instagram's visit to Allu Arjun's residence, the megastar graciously conducted a tour of his house, showcasing his workspace and offering a glimpse into his daily routine. He candidly expressed the paramount importance of family and his unyielding commitment to not only engaging and entertaining his fan base but also captivating broader audiences through his acting.
Also Read: Will Smith is back with 'I Am Legend 2': Know the release date, plot, where to watch and more
Subsequently, the team ventured into the universe of "Pushpa 2: The Rule," capturing exclusive behind-the-scenes moments from the film's sets. This sneak peek unveiled the remarkable transformation of Allu Arjun's character, evolving from a simple family man into the gritty and rugged persona of Pushparaj in "Pushpa 2: The Rule." Accompanying this, director Sukumar shared his personal journey of collaboration with Allu Arjun over the years, particularly their partnership on the "Pushpa" franchise.
ALSO READ: Jawan Audio Launch: Shah Rukh Khan and Atlee to attend pre-release event in Chennai (Photos)
Last Updated Aug 30, 2023, 10:49 AM IST