Pathaan: Katrina Kaif aka Zoya hints at Shah Rukh Khan's 'dangerous' task says, 'My friend is on a mission...'
Katrina Kaif joins Pathaan's film campaign as Zoya from Tiger, asking people not to give spoilers. Katrina Kaif promotes Shah Rukh Khan's film in Zoya style, 'My friend is on a mission...'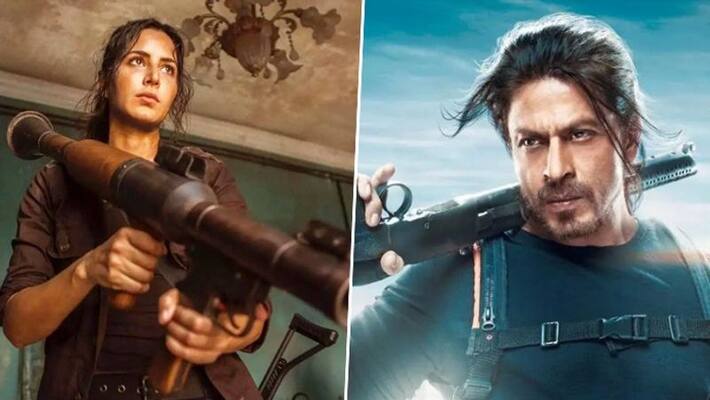 Pathaan, the much-anticipated spy thriller starring Shah Rukh Khan in the title role, has finally here! The Yash Raj Films production, which marks Shah Rukh's return to leading man roles following 2018's 'Zero,' hits theatres a day before Republic Day, giving the Hindi picture a five-day extended opening weekend.
In Pathaan, SRK is shown in a full-fledged action avatar, which his fans are quite excited to watch. Now, only a few hours before Pathaan's release, Katrina Kaif asked fans not to give away spoilers, stating that SRK is on a 'hazardous mission'. Deepika Padukone, Pathaan's leading woman, was quick to respond.
Also Read: Pathaan FIRST REVIEW: HIT or FLOP? 
Taking to Instagram Story, Katrina Kaif posted a still from her movie 'Tiger 3' along with the caption, "My friend Pathaan is on a dangerous mission. It is very important in the interest of national security that you don't reveal anything about this. You are all part of this classified mission now. Zoya."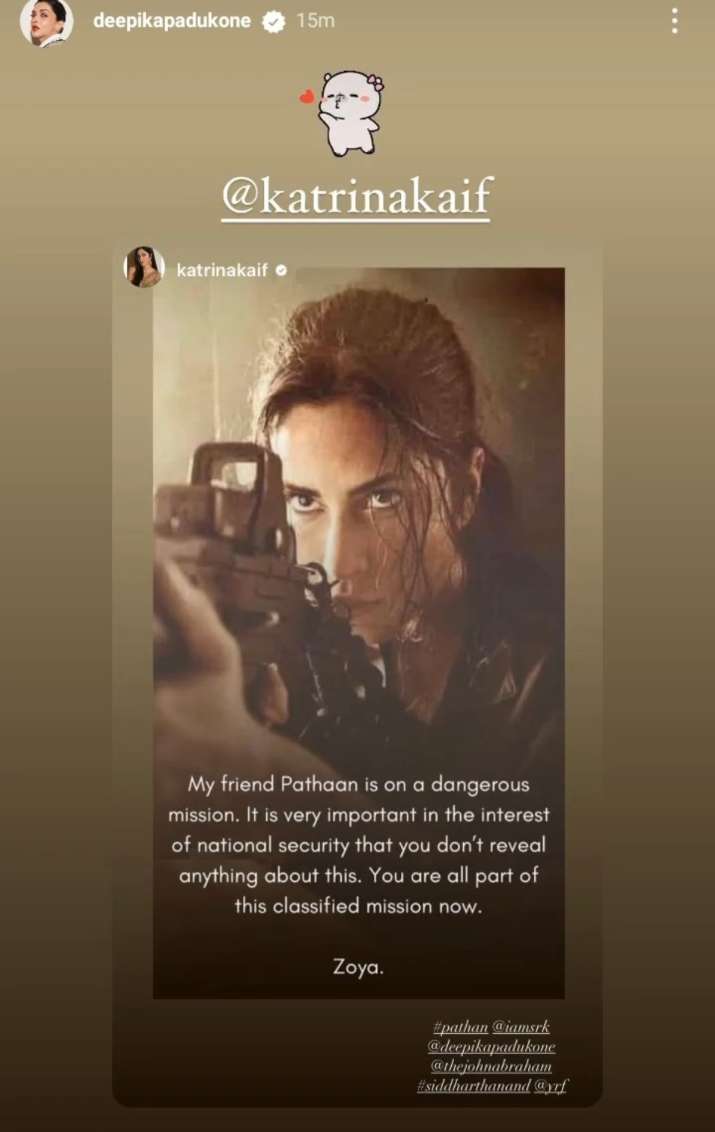 Deepika Padukone re-posted Katrina Kaif's Instagram story with a nice sticker reply on her own account. With this, moviegoers are now waiting for Deepika and Katrina Kaif to co-star in one of YRF's espionage films. Perhaps the two Bollywood actresses will be seen performing together in Pathaan.
In 'Tiger 3,' Salman will reprise his role as R&AW (Research & Analysis Wing) agent Avinash Singh Rathore nicknamed Tiger, while Katrina will portray the female protagonist, Zoya. Kabir Khan helmed the first film in the successful franchise, 'Ek Tha Tiger,' which was released in 2012.
Also Read: Pathaan screening and party: Shah Rukh Khan, Deepika Padukone, John Abraham's special night- see pictures
The film garnered an enormous reception and was a huge box-office hit. The second film, 'Tiger Zinda Hai,' was directed by Ali Abbas Zafar and was released in 2017. Salman and Katrina have appeared in both films of the franchise. Both flicks are part of Aditya Chopra's expansive espionage world.
Meanwhile, Salman Khan from the Tiger series is expected to appear in Shah Rukh Khan's Pathaan. And the celebrity may be seen in his Tiger series persona. SRK, on the other hand, will appear in the third part of Tiger 3. Katrina Kaif is now a part of the film's campaign due to her statement.
Last Updated Jan 25, 2023, 9:11 AM IST