Parineeti Chopra; Raghav Chadha shares amusing glimpses from their pre wedding ceremony; WATCH
Raghav Chaddha and Parineeti Chopra, the newly married couple, have released a video from their pre-wedding celebration. The video features families from both sides engaging in fun games.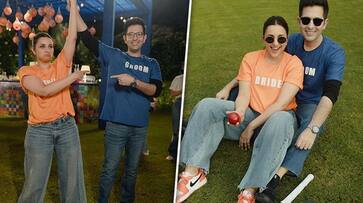 Rajya Sabha member Raghav Chaddha and Bollywood actress Parineeti Chopra, recently tied knots in a beautiful wedding. Following the release of enchanting wedding pictures the couple has now unveiled a lively pre wedding video in which they engage in a series of fun games to kick off their wedding festivities. In their post the couple expressed, "Creating new traditions for weddings… no stress, no drama… just enjoying each other and our families and celebrating our love – Chopras vs Chadhas ♥️‍♂️."
The video included a cricket match between the two families, however amidst all the enjoyment, the bride and groom found themselves in a spirited disagreement, revealing their competitive sides. Along with the cricket match, both families also took part in various activities, such as musical chairs and a three-legged race, among others. Undoubtedly, these joyful moments created cherished memories in anticipation of their wedding.
Parineeti shared a post on yesterday on Instagram that included some photos from their pre wedding game day. Post caption read - "Time to spill the beans on our not-so-traditional rituals, to kickstart our traditional Indian wedding!"
She further added, "Musical Chairs: A high-stakes dance-off where everyone cheats. Lemon & Spoon Race: All those years in school sports days did not prepare you for this. Three-Legged Race: More difficult than hitting a cricket century, bruises are inevitable, but the bonds you forge are priceless. Cricket: Watch out for cricket legends within the fam (especially your mother-in-law, who will change the game with a wicket on the final ball, and win the game). The bride uses her bridal power to bring World Cup cricketers to her side."
Finally revealing the winners she remarked, "Now, about setting the trend: It's not just about winning or losing. It's about the incredible moments, the cheers, the laughter, and most importantly, the bonds formed. Our Chadha-Chopra War was an epic battle where both sides emerged victorious and hearts were well and truly conquered. ❤️,"
The pre-wedding festivities for Parineeti and Raghav commenced in Delhi with a Sufi night, followed by an Ardaas ceremony. Subsequently, they traveled to Udaipur, where Parineeti's Choora and Mehndi ceremonies took place on September 23. On that same day, they also organized a grand Sangeet ceremony. The couple eventually exchanged vows on September 24. 
Last Updated Oct 2, 2023, 2:19 PM IST