OMG 2: Akshay Kumar finally speaks on releasing movie with 27 cuts; Here's what he said
Akshay Kumar finally speaks on getting 'A' rate on OMG 2 release. Also adds about how he has faced discouragement because of his movies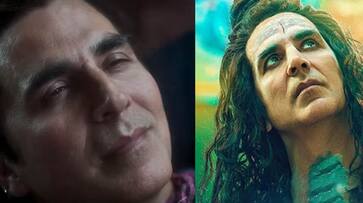 The Bollywood movie OMG 2, starring Akshay Kumar, Pankaj Tripathi & Yami Gautam, released on 11th August, 2023 in theatre after applying 27 cuts by Censor Board of Film Certification (CBFC).
It has already been 2 months since OMG 2 release in theatres, now Akshay Kumar finally spoke about how Censor Board applied 27 cuts in OMG 2.
 
During a group interview, Akshay Kumar says, "I don't want to fight. I have no idea about the rules. I didn't get into the rulebook. If they thought it was an adult film, then… did you all feel it is an adult film? Whoever we have shown the film to, they loved it. I made it for youngsters and I'm happy it is coming on Netflix and I'm happy about it. That's it. The important thing is that people should know about it," as quoted by India Today.
Kumar also mentioned that in 2017, during 'Toilet - Ek Prem Katha' movie release, he faced a lot of discouragement because of the movie name.
He mentioned that, "When I made 'Toilet: Ek Prem Katha', everybody told me what kind of title this is. I was asked, 'Are you mad? Do you want to make a film on shauchalaya? Who makes a film on a subject like toilet?' I would like to tell you one thing, please don't discourage me by thinking what business it (my film) is going to do. Give me courage, at least this kind of film is being made and we are showing it to our children. It is time to change society," in the Interview.
He also recalled, how audience badly demotivated him when the movie 'Padman' was about to release in 2018. 

ALSO READ: Mission Raniganj Box Office Day 1: Akshay Kumar starrer off with a dismal start; mints THIS in India
In July 2023, OMG 2 was submitted to CBFC & during that time, OMG 2 was certified as 'A' rated (Adults only) movie by Central Board of India & 27 cuts were implied before publishing.

ALSO READ: WATCH: Shahid Kapoor, Kiara Advani, Varun Dhawan, and Tiger Shroff dance to 'Jumma Chumma'
Last Updated Oct 7, 2023, 12:05 PM IST