Megan Fox talks about her miscarriage with her beau Machine Gun Kelly, also pens poems on her born child
The miscarriage Megan Fox experienced with her fiancé, musician Colson Baker (Machine Gun Kelly), has been made public. The discovery appeared in poetry in the Pretty Boys Are Poisonous book excerpts.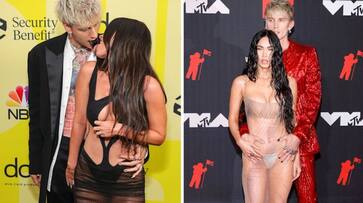 Megan Fox has publicly opened up about going through a miscarriage. The revelation came as poetry in the excerpts of her book titled Pretty Boys Are Poisonous. As reported by Page Six, the poems she wrote describe an ultrasound image of their unborn kid at 10 weeks and 1 day, laying beside her bed. "Do you think that if she could have, she would have left a suicide note," Megan asks. The Transformers actress mentions coming to terms with the harrowing situation and bidding goodbye to the infant was quite traumatic.
She reportedly wrote, "I close my eyes and imagine holding you tight against my chest as they rip you from my insides. I will pay any price, tell me please, what is the ransom for her soul?" 
Megan Fox discussed her pregnancy loss in a sit-down interview with Good Morning America, stating that it was an experience unlike anything she had ever had. She and Machine Gun Kelly both found the loss to be incredibly traumatic, and it set off a crazy quest to figure out why it had happened to them. 
Also Read: Who is Shalini Talwar? Know all about Yo Yo Honey Singh's ex-wife and their marriage
"I have three kids, so it was very difficult for both of us. And it sent us on a very wild journey together and separately, and together and apart, and together and apart, and together and apart, trying to navigate: 'What does this mean? Why did this happen,'" she told GMA.
In addition to losing the pregnancy, Megan said in her essay that she had been abused in previous prominent relationships. Megan claims that the book is neither her life story nor an exposé. It served as a conduit for her terrifying encounters and a means of eradicating the sickness that caused her to "body ache from carrying the weight of their (past lovers) sins."
Also Read: Randeep Hooda set to marry actress Lin Laisharam? Here's what we know about her
Megan revealed to GMA that she had been in several mentally abusive relationships in addition to at least one relationship in which she had been physically abused. "I have only been publicly connected to a few people but I shared energy, I guess you could say, [with] people who were horrific people – also very famous, very famous people. But no one knows that I was involved with those people," she continued.
Megan was wed to actor Brian Austin Green before to becoming engaged to Machine Gun Kelly. The ex-couple, who were married for ten years until divorcing in 2020, had three children together: 11-year-old Noah, 9-year-old Bodhi, and 7-year-old Journey. She disclosed her connection with Machine Gun Kelly, who has a daughter, 14, from a previous relationship, in the same year. In 2022, the pair made their engagement public.
Last Updated Nov 8, 2023, 11:04 AM IST