Lucky Man REVIEW: Is Yogi Babu's latest Tamil film worth watching with family? Read on
Lucky Man movie review: Kollywood star Yogi Babu's film is directed by Balaji Venugopal. The movie revolves around the story of a man who wanders in search of fortune. Read what social media users have to say.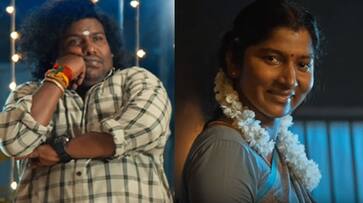 Yogi Babu's Lucky Man film has already received positive feedback from special media premieres and celebrity programmes. The film is set to enter theatres today (September 1st). Balaji Venugopal directed the film. Balaji has starred in several movies while working as an RJ and has made his directorial debut with this flick. The plot centres around the journey of a guy in quest of wealth.
Think Studios is in charge of the production of Lucky Man. Sean Roldan created the soundtrack for the film. Sandeep K Vijay directed the film. The film stars Yogi Babu, Veera, Rebecca, RS Shivaji, and many others. The film's trailer was just unveiled, and it sparked excitement among moviegoers.
Also Read: Nayanthara's Instagram Debut: Jawan actress shares trailer and picture with her sons
The film's press conference was recently conducted in Chennai. "I have done everything like radio, TV, voice artist, and acting for 20 years," stated director Balaji Venugopal. But it took me a long time to complete the film Lucky Man. It was 'Muruga Bhakthi' who introduced me to Yogi Babu. 'This narrative is like looking back at my own life,' he stated as he listened to the account. I will undoubtedly accomplish it.'
Yogi Babu on Lucky Man:
When something positive occurs, specific individuals always comment negatively about it. They told me that Yogi Babu would not be coming to shoot and dub. But we got everything done despite listening to all of that."
While shooting, Yogi Babu sir had a major medical issue in his family one day. That day, we had planned to film in three different sites. If we miss that day, we'll have to wait a month for the next call sheet. He answered, 'I'll come,' when everyone was in pain and they believed they could pack up in the afternoon. Despite the issues, we began at 1.30 and went until 5.30 in comedy."
Also Read: Chennai Express to Don, 7 must-watch Shah Rukh Khan films on Netflix
"From an empty auditorium to a cheering SATISFIED audience," Balaji Venugopal said on his Facebook page. In Kaaraikudi, we completed the FIRST EVER PREVIEW OF LUCKYMAN. What a reaction, and what a passion for the picture. When my name was called, time stood still for me, and the entire audience cheered in unison. Those claps and whistles are still ringing in my ears. Thank you to the Universe and my team."
Last Updated Sep 1, 2023, 9:50 AM IST