Legendary singer SP Balasubramaniam health: Stable, but still in ICU
Legendary singer SP Balasubramaniam who has been admitted to MGM Hospital following COVID-19 infection is said to be stable. However, he will remain in ICU for treatment. His son Charan shared the report on Instagram and appealed for more prayers.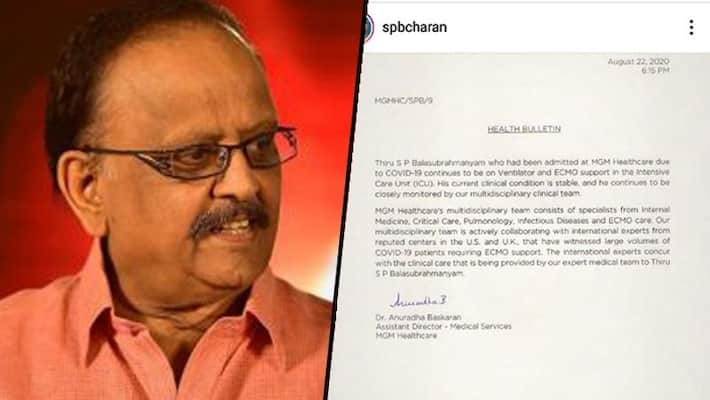 The health condition of legendary singer SP Balasubramaniam at MGM Hospital is now said to be stable as per the latest health bulletin. The singer and actor will have to remain in ICU as he is on ventilator and ECMO support.
His son SP Charan took to Instagram and shared the news and also appealed for more prayers.
As per a report in a video message, Charan said, "I again thank each and every one of you for your prayers, the love, the concern that you have showered upon my father and this family. Keep the prayers coming. There is a long road to recovery but an assured one. Thank you and god bless you all," he said.
The report by Assistant Director of the hospital Anuradha Bhaskharan states, "Thiru SP Balasubrahmanyam who had been admitted at MGM Healthcare due to COVID-19 continues to be on ventilator and ECMO support in Intensive Care Unit (ICU). His current clinical condition is stable, and he continues to be closely monitored by our multidisciplinary clinical team."
SP Balasubramaniam was taken to hospital 10 days ago following COVID symptoms. The singer shared the news stating that he tested positive.
Last Updated Aug 24, 2020, 12:53 PM IST