Koffee With Karan EP 2: Did Akshay Kumar reject Sunny Deol's personal request to change release date of OMG 2?
Koffee With Karan Season 8 EP 2: Sunny Deol revealed that he had personally called Akshay Kumar to change the release date of OMG 2 so that it does not clash with Gadar 2. However, Gadar 2 went on to become a massive hit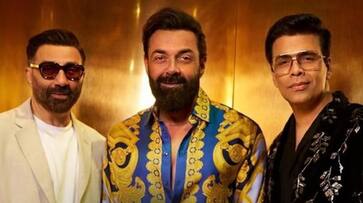 Koffee With Karan is back and how! The massive hue and cry that seemed to take over the internet after the first episode with Deepika Padukone and Ranveer Singh aired is not to die down anytime soon. But Karan Johar is back with another blasting episode with Deol siblings Sunny Deol and Bobby Deol. Sunny Deol and Ameesha Patel starrer Gadar 2 released on 11th August of this year and it clashed with another massive franchise, OMG 2 starring Akshay Kumar, Pankaj Tripathi and Yami Gautam in lead roles. 
Sunny Deol's reaction to Gadar 2 and OMG 2 clash
Karan asked whether Sunny felt that Gadar 2 was not considered to be a great film as OMG 2 was also releasing on the very same day. Sunny revealed that, ''It's a very emotional thing you asked me frankly because I thought my film is releasing and I have'nt had a success in donkey's years. I did not want anybody else to come along with it. But you can't stop anybody. So obviously it does hurt you, but then I said, does it matter? Let's just go along with it. But eventually both films went on to do great. But there was apprehension that thing did not go right for a very long time and if no one else releases atleast I would get the screens to release. 
Did Akshay Kumar say no to Sunny Deol for changing OMG 2 date change?
On being asked by Karan whether Sunny Deol asked Akshay Kumar for a date change, Sunny replied in the affirmative. Sunny revealed that before the release he called Akshay Kumar requesting him to change the release date of OMG 2, ''I asked him please don't do it, if it's in your hand. But he said that no it's the studio's decision. To which I replied that I can only request and I can't do more than that''. 
ALSO READ: Koffee With Karan Season 8 EP 2: Bobby Deol praises dad Dharmendra in 'Rocky Aur Rani'; says 'he was magical'
It should be noted that both the films did eventually do great. Gadar 2 had huge success and it led to the reopening of a lot of single screens too. Specially in Punjab and the northwestern states of the country, the celebration around Gadar 2 was humongous. OMG 2 too went on to be a great hit for it's unique subject of sec education in schools. The beautiful way a taboo subject was treated in the film speaks volume for it's makers. Pankaj Tripathi's performance specially praised not to mention Akshay Kumar and Yami Gautam who were also praised highly for their roles.
ALSO READ: Koffee with Karan 8: Deepika Padukone reveals love, tolerance, and changing 'hate' for Ranveer Singh
Last Updated Nov 2, 2023, 2:00 AM IST