Vicky Kaushal spills the beans about planning a baby with Katrina Kaif; here's what he said
Vicky Kaushal is open about wanting to have a family with his wife Katrina Kaif. Almost two years have passed since the two got married.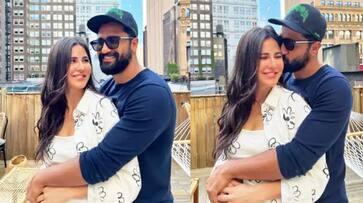 Vicky Kaushal has discussed having a family with his wife, actress Katrina Kaif, and whether the couple is under any pressure to have children from either of their respective families. Vicky and Katrina were married in December 2021 after dating for two years. The Sardar Udham actor added that both his and her families are very relaxed and never put any strain on them. Vicky said to Radio City, "Koi bhi nahi daal raha. Vaise had a pleasant day. (No one. They are cool individuals. Kaushal said in the interview: "The first ones to know I was dating Katrina Kaif, were my mother and father. Aise to din nahi aaye ke Viral (Bhayani) se pata lage, maine bataya (I told them, the situation isn't that bad that they get to know about it from the paparazzi). Vicky had stated during his appearance on We Are Yuvaa's Be A Man Yaar episode that he at first found it hard to accept that a celebrity like Katrina was paying attention to him.
Also Read: 'Jawan' box office collection Day 7: Shah Rukh Khan's film gets closer to the Rs 400-crore mark
"I had trouble coming to terms with that reality that I can," he told host Nikhil Taneja. "Those factors were never the reason why I fell in love with Katrina. When I got to know the human side of her, I fell in love with her. When I got to know her, I was fully in love with her, and I knew that I would want to have her as my life companion. Nothing else matters. First, I used to feel odd getting attention from her. I used to be like 'Heh? Are you okay?' Not that I wasn't giving a lot of attention, it was mutual. For me also, being from the outside and not knowing her as a human being, she was a phenomenon. She still is. It's just that the human side also added." he added in the interview. 
Also Read: Sonakshi Sinha buys swanky sea-facing apartment worth Rs 11 crore in Mumbai
Last Updated Sep 14, 2023, 4:01 PM IST