Ekdanta 2.0 teaser OUT: Celesti Bairagey, Siddharth Nigam groove fans to Ganeshotsav-themed song
Actor Siddharth Nigam of Kisi Ka Bhai Kisi Ki Jaan has unveiled the teaser for his new film Ekdanta 2.0, which stars the stunning Celesti Bairagey. Check out the teaser's highlights and failures.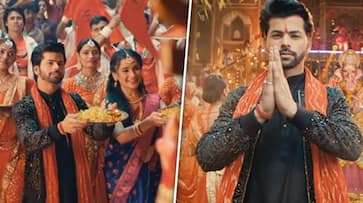 Ekdanta 2.0, a song by Siddharth Nigam and Celesti Bairagey with a Ganeshotsav theme, is about to be released. They have never appeared on screen together before, and even just the trailer has caused a lot of anticipation for this partnership. Their coordinated entrance, especially during the song's aarti section, has drawn praise for its beauty and harmony, inspiring fans and viewers to want to see the whole music video. In "Ekdanta 2.0," Siddharth Nigam and Celesti Bairagey appear prepared to give a standout performance that is visually stunning and adds to the celebratory atmosphere of Ganeshotsav.
The dance moves displayed by Siddharth Nigam in the song's preview are breathtaking. With every movement, he radiates sheer delight and passion, which makes the dance immensely alluring and exciting. Viewers are enthralled by his enthusiasm and talent and can't wait for the full version to be released. The teaser's standout moment surely involves Siddharth Nigam's dance moves. 
Siddharth Nigam and Celesti Bairagey look lovely in their brilliant and colourful Indian clothing. Celesti Bairagey is stunning in a double-shaded, blue and purple silk saree that she accessorised with priceless jewellery, including a neckpiece and a maangtika. Her traditional attire highlights her beauty and contributes to the song's appealing visuals. Siddharth Nigam, on the other hand, looks dapperly adorable in a black kurta pyjama. His outfit of choice blends well with the style as a whole and gives him a refined appearance. 
Fans expressed their enthusiasm and adoration as soon as the teaser was made available. One fan wrote, "Unexpected surprise indeed.... waiting eagerly, Sid." Siddharth Nigam's dance steps were anxiously anticipated by another fan, who said, "Waiting to see your dance steps." The teaser's briefness is the only flaw that can be identified. It teased fans with just a 0.54-second video clip and left them wanting more.
Last Updated Sep 15, 2023, 6:00 PM IST