Kangana Ranaut to Jaya Bachchan: Here's how Bollywood actress reacted to 'ripped jeans' remark
Bollywood celebrities reacted to ripped jeans remark, here's what they have to say.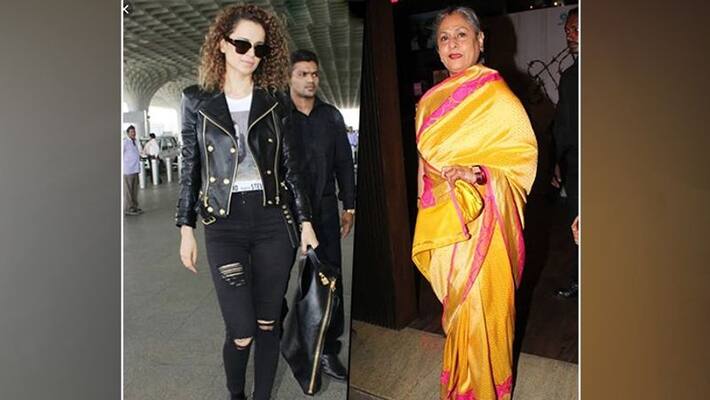 Uttrakhand's CM Tirath Singh Rawat's senseless comment about women wearing ripped jeans is not well-received by India's people, especially women.
The CM said that women who wear ripped jeans are going against the 'sanskar' and following western culture.
Bollywood celebrities strongly reacted against the CM's statement.
Actor-politician Jaya Bachchan responded sharply to this and said, "Such a statement doesn't befit a Cheif Minister. Those in the higher post must think before making public statements. You say such things in today's time; you will decide who cultured and who's not based on clothes is? It's a bad mindset and encourages crimes against women."
Earlier this week; speaking at an anti-abuse workshop organised by the Uttrakhand State Commission for Protection of Child Rights In Dehradun; he said that ripped jeans are 'bad examples set by parents.
Here's what Bollywood celebrities commented:
Koena Mitra tweeted: "May Bjp rule for another 50 years but.... ripped jeans and boots will rock forever! Men don't tell us what to wear! I wear shorts and snickers, I dance like a hip hopper, I chant Hanuman chalisa, I vote, I travel like a Gypsy and I cancel Men like him. Stop."
Gul Panag tweeted a photo of herself wearing ripped jeans and captioned: "#RippedJeansTwitter"
Sona Mohapatra shared a photo of herself wearing a ripped long t shirt and wrote: "I don't wear jeans owing to the humidity & heat here but happy for this ripped T shirt with my sanskari ghutnas showing!..& #GirlsWhoWearRippedJeans don't need anyone's permission in #India . We are the land of the glorious Konark, Khajurao, Modhera, Thirumayam, Virupaksha!"
Shruti Seth tweeted: "Currently ripping all my jeans."
Politician Priyanka Chaturvedi also explained her point of view about the remark in her own style.
Kangana Ranaut also reacted to the remark and shared this on her Twitter:
If you want to wear ripped jeans make sure coolness quotient is of this magnitude as in these pics, so that it looks like your style not your state a homeless beggar who hasn't got allowance from parents this month, most young people look like that these days #RippedJeansTwitter pic.twitter.com/hc14cLxQDE
Last Updated Mar 19, 2021, 5:09 PM IST