Jawan: Atlee finally reacts to claims that 'villain' mask was copied from iconic film 'Dark Knight Rises'
Several social media users felt that the villain's mask in Jawan took inspiration and was based on Bane from The Dark Knight Rises film. Now, noted maverick South filmmaker Atlee Kumar has reacted to these claims in the latest and recent interview. It is what he said.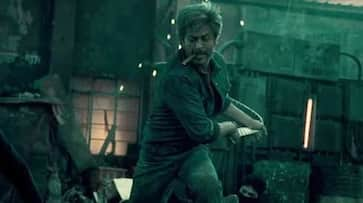 Jawan featured several characters. But, there was one that brought back memories of Bane from The Dark Knight Rises. Those who have watched the Atlee-Shah Rukh Khan film would recall that a villain was introduced in the second half of the movie, Jawan. The villain wore a mask similar to the one we saw in the Christopher Nolan film. It led to fans believing director Atlee borrowed the idea from the film. However, in a new interview, Atlee clarified that he has not borrowed it from the Hollywood film but is okay with the parallels which are now getting drawn.
ALSO READ: HOT Photos: Disha Patani looks SEXY as she flaunts cleavage and her hourglass figure in plunging bodycon dress
Speaking with a leading Indian entertainment portal, Atlee said, "I want to cover the face of an actor in a film, which I want to reveal in the next part, so what mask can I go for? I have one half-skull mask and a full bandaged mask. The film is about masks only. It is the reason I went with the mask designed by my production designer. That is all. It was nice. If they call it Bane, that is fine and a good reference."
The filmmaker said that creative work tends to share similarities with things seen in the past. But it is the intentions that matter. He adds, "If the intention is the same. If I am doing the same thing, then it is wrong. If it echoes, then that is considered to be okay. If it is a good reference, I am okay. I know I have been criticised for this for a very long time. I have been to court. I have won the cases by honesty and merit."
ALSO READ: 'Tiger 3': Salman Khan, Katrina Kaif's latest film teaser all set to release on THIS date
Last Updated Sep 25, 2023, 3:04 PM IST