Jai Bhim trailer out: Suriya turns advocate Chandru in gripping courtroom drama
Featuring Suriya, Jai Bhim will be streaming for Amazon Prime members in India and across 240 countries this Diwali on November 2 in Tamil, Telugu and Hindi.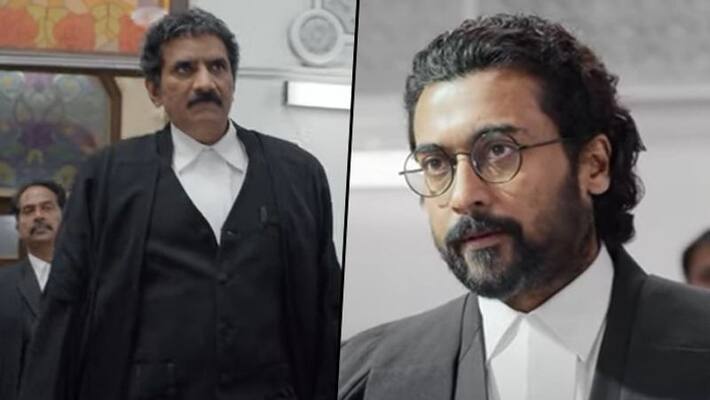 The most awaited trailer of the movie Jai Bhim is here to blow your mind. The film is directed by Tha. Se. Gnanavel, Jai Bhim, is a gripping courtroom drama about the journey of one man who rose against all odds and used his voice for betterment. Suriya headlines the movie Jai Bhim and it will be streaming for Prime members in India and across 240 countries and territories this Diwali on November 2, 2021, in Tamil, Telugu and Hindi.
The courtroom drama is written and directed by Tha. Se. Gnanavel and starring Prakash Raj, Rao Ramesh, Rajisha Vijayan, Manikandan, and Lijo Mol Jose in pivotal roles, Jai Bhim has been produced by Suriya and Jyotika under the banner of 2D Entertainment. Co-produced by Rajsekar Karpoorasundarapandian, Jai Bhim has music by Sean Rolden. The team behind this film also includes DOP SR Kadhir, Editor Philominraj, and Art Director Kadhir. Also Read: From being Priyanka Chopra's sister to becoming star: 7 Lesser known facts about Parineeti Chopra
Jai Bhim is a movie based on actual events that happened in the 1990s in Tamil Nadu. The eye-catching trailer revolves around the life of a hardworking tribal couple, Senggeni and Rajakannu. Their lives standstill when Rajakannu is arrested on false charges and later goes missing from police custody. Sengenni, in the quest to find her husband seeks the help of Advocate Chandru, intensely portrayed by Suriya, who takes it upon himself to unearth the truth and fight all odds to bring justice to the tribal woman. Also Read: Jacqueline Fernandez's secret to glowing and fresh skin revealed; follow her tips
Jai Bhim is an extraordinary tale about a man who emerges like a speck of light in the lives of the helpless, making it a beautiful and enchanting story to bring to our customers this Diwali, said Manish Menghani, Head, Content Licensing, Amazon Prime Video India.
The thrilling storyline shows us how one man can motivate many. The makers are thrilled to continue collaborating with 2D Entertainment and add this much-awaited, stimulating story to our existing repertoire. So get ready for an epic ride with the Jai Bhim movie, as this epic movie will surely blow your mind and offer a great cinematic experience. Also Read: WHAT! Gauahar Khan was told she would die by 30? Here's how actress reacted to kundali reading
Last Updated Oct 22, 2021, 7:23 PM IST