Israel-Hamas War: Justin Bieber faces backlash for 'Praying for Israel' caption on Gaza photo (Check out)
Pop singer Justin Bieber is under backlash after posting a now-deleted Instagram story supporting Israel with a photograph of damage in Gaza where he wrote 'Praying For Israel'.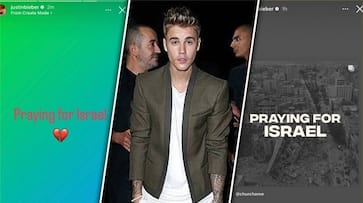 Justin Bieber provoked outrage after uploading – and then deleting – an Instagram Story with a snapshot of the damage in Gaza and the words "Praying for Israel." Following the social media backlash, the musician deleted the post from his Instagram Stories, which was uploaded five days after Hamas' horrific terrorist attack on Israeli people, and replaced it with the same statement but without the photo.
"To me, it seems wrong to vilianize all Palestinians or all Israelis," Bieber stated in an earlier Instagram Story post. "I'm not interested in choosing sides, but I am interested in standing with the families who have been brutally taken from us."
Also Read: Malayalam comedy actor Binu B Kamal arrested for sexually assaulting woman in bus
Despite Justin removing the controversial tweet, social media users are still upset with the singer.  One user wrote, "Can celebrities just stop talking?" Another one said, "He apologized but honestly that doesn't change anything. if you are a celebrity you should do research before hurting millions of people. Hope he learns from it."
Also Read: Nora Fatehi SEXY photos: Actress 5 BOLD dance moves that went on to trend!
Meanwhile, India initiated Operation Ajay on Wednesday to repatriate its residents from Israel, where a full-fledged conflict has erupted since the Palestinian terrorist organisation Hamas assaulted the country on Saturday. So far, the battle has killed roughly 3,700 people on both sides of Israel's border with Gaza.
 
Last Updated Oct 12, 2023, 11:18 AM IST