Indian Idol contestant from Karnataka sings about Allah being Lord Shiva devotee, wins hearts
Seventeen-year-old Shivani Shivdas Swamy from Bidar, Karnataka, impressed the Indian Idol judges with her unique style of singing. She sang barefoot to express devotion to Lord Shiva and chose a song about Allah, emphasizing the unity of genuine devotion across religions. Born into a musical family, Shivani has excelled in music competitions, establishing herself as a rising star in the industry.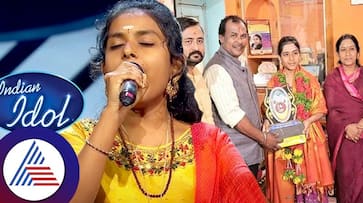 A seventeen-year-old named Shivani Shivdas Swamy from Bidar, Karnataka, has taken the Indian Idol competition by storm. Her remarkable performance not only showcased her talent but also her unique style of singing. Shivani, a devotee and follower of Lord Shiva, decided to sing barefoot during her performance, which surprised the judges but demonstrated her deep devotion to the deity.
When asked if she had come to the competition alone, Shivani proudly replied that she was accompanied by Lord Shiva, signifying her strong faith. Her humility and courtesy won the judges over. Despite her devotion to Shiva, Shivani chose to sing a song about Allah, receiving widespread praise for her performance. Her rendition emphasized the idea that genuine devotion transcends religious boundaries, drawing significant attention and admiration.

Shivani Swamy from Bidar selected to prestigious 'Indian Idol', Sole contestant from Karnataka
Hailing from a family of musical artists in Bidar, Shivani has been immersed in the world of music from a very young age. Her parents served as her initial teachers, imparting important cultural values through music. Shivani began her musical journey at the tender age of three and has since made her mark in the music industry.

Meet Rishi Singh from Ayodhya, winner of Indian Idol 13; here's what he takes home
Participating in music competitions has not only boosted her self-confidence but has also deepened her family's love for music. Out of 13,000 contestants in the "Indian Idol" reality show, Shivani was among the 25 who made it to the TV mega audition, representing Karnataka. Her accomplishments in various music competitions, including winning the silver medal in Zee TV's "Sarigamapa" and clinching the first prize in "Pride of Telangana," have already established her as a rising star.

Shivani's musical talents extend to regional competitions, where she was honoured with the title of Kalyan Kala Ratna by the Kalyan Karnataka Artistes' Union. She has also claimed victory in the Bidari folk singing competition. Beyond competitions, her talents have reached the silver screen, as she lent her voice to a song in the movie "Ondu Sarala Premakathe," directed by Simple Suni and starring Vinay Rajkumar.
Last Updated Oct 12, 2023, 2:35 PM IST