Gandhi jayanti 2023: Know how filmmaker Rajkumar Hirani showed 'Gandhigiri' through his movies
Through his films, including Munna Bhai MBBS, Lage Raho Munna Bhai, and many more, the director exposed a generation of Indians to Gandhigiri.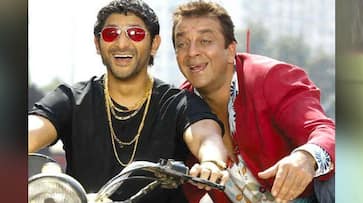 Rajkumar Hirani, the man who forged the most surreal oeuvre of cinematic excellence with merely five films to his name, made his debut in year 2004 with Munna Bhai M.B.B.S.. The filmmaker has introduced a generation of Indians to Gandhigiri through his films, starting from Munna Bhai MBBS, Lage Raho Munna Bhai and many more. 
Rajkumar Hirani's 'Lage Raho Munna Bhai' stands as a classic example of how you can marry the ideals of Gandhi with commercial success. The filmmaker has indeed made a significant impact with his films, introducing the concept of 'Gandhigiri' to a whole generation of Indians. Through movies like 'Munna Bhai MBBS' and 'Lage Raho Munna Bhai,' Hirani skillfully combines the ideals of Gandhi with commercial success. His films not only entertain but subtly convey Gandhi's philosophies to a new generation. 
Hirani's ability to seamlessly integrate socio-political commentary into Bollywood entertainment, leaving audiences with memorable moments and thought-provoking lines is incredible. His ability to deliver powerful messages without being preachy is truly commendable and reminds us of the enduring relevance of Gandhism in our society.
We learned to laugh with (rather than against) the Father of the Nation, who possessed a sly sense of comedy, as the video taught us Gandhian values through humour. Furthermore, it demonstrated beyond question that we did not necessarily have to regard him in holier-than-thou colours, while yet not dismissing his significance.
Hirani's ability is to make a socio-political statement working within the tenets of a Bollywood performer. His films deliver a message but never hammer it in. Motifs and unique lines are a given in Raju Hirani style — 'jadoo ki jhappi' to 'aal is well' to 'wrong number'.
Hirani's films have been deeply influenced by Mahatma Gandhi's philosophies. From 'Lage Raho Munna Bhai' to 'PK,' Hirani beautifully weaves Gandhi's principles of truth, non-violence, and compassion into his storytelling. Through his characters, Hirani showcases the power of these ideals in shaping a better society. Gandhi's teachings resonate with audiences and remind us of the importance of empathy and righteousness. 
On the hand, we are now eagerly awaiting for the filmmaker's next, 'Dunki', which is all set to hit the screens on Christmas this year, starring Shah Rukh Khan.
Last Updated Oct 2, 2023, 4:14 PM IST