Friends star Matthew Perry dies at 54: Actor's last Instagram photos and video go viral; take a look
Hollywood actor Matthew Perry shared his last Instagram a few days before his death. The actor, who played Chandler on Friends, died on Saturday (Oct 28). Now, his social media posts are going viral and fans are getting emotional.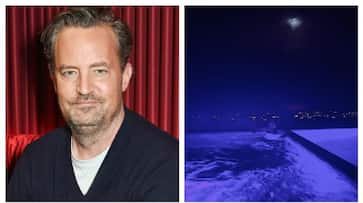 Matthew Perry, 'Friends' actor, reportedly died in his Los Angeles home on Saturday, October 28. According to initial reports, he drowned in his jacuzzi tub. While the inquiry is ongoing, Matthew's most recent Instagram post has caught everyone's interest. The actor, who portrayed Chandler Bing on Friends, last posted on Instagram earlier this week from a jacuzzi.
The '17 Again' star uploaded a snapshot and a video of himself having fun in the water. He was photographed wearing headphones at the far end of the jacuzzi. In the shot, Matthew appears to be engrossed in his music. Matthew captioned the image with a clever reference to Batman. Matthew shared the post with a caption that was a funny nod to Batman. "Oh, so warm water swirling around makes you feel good? I'm Mattman," he wrote.
Matthew shared the image after he shared a video of the moon with yet another nod to the DC superhero. "Do you understand what I'm trying to tell you? – I'm Mattman," he wrote. The actor also revealed he was preparing for Halloween.
Fans flocked to the comments section to express their shock at his untimely demise. "Thank you for every single laugh and all the joy you gave to the world ❤️," a fan wrote. "I can't believe you are gone. You're humor got me through some hard times in my life. You're memory will never be forgotten. ," added another. "He was a legend idk what to say I am about to cry," a third user wrote.
Matthew has appeared in a lot of American films, but his role as Chandler in Friends remains memorable. The actor appeared alongside Jennifer Aniston, Courteney Cox, Lisa Kudrow, Matt LeBlanc, and Matthew Schwimmer in the sitcom. The actors have not yet responded to the news.
TMZ broke the devastating news of his death, which was quickly followed by the Los Angeles Times. According to sources, Matthew was discovered deceased at his Los Angeles residence on Saturday evening, October 28. According to the New York Post, the Los Angeles Police Department verified that a guy in his fifties died at Matthew's residence. 
They, however, declined to authenticate the identification. In a statement, they said:  "We responded to the 1800 block of Blue Sail Rd for a death investigation on a male 4:10 p.m. this afternoon. He was in his 50s." 
There was no evidence of foul play and no narcotics were discovered at the scene. According to reports, first responders were called to the house due to a cardiac arrest.
Last Updated Oct 29, 2023, 8:52 AM IST