Dunki Drop 1 bash: Raj Kumar Hirani confessed THIS about working with Shah Rukh Khan; Read more
To celebrate Shah Rukh Khan's 58th birthday, Rajkumar Hirani revealed his early desire to cast SRK in his debut film while promoting their upcoming collaboration, 'Dunki,' set to release in December 2023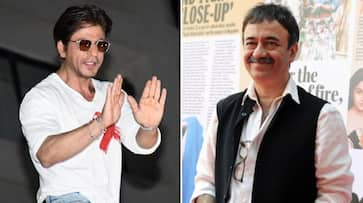 To celebrate Shah Rukh Khan's 58th birthday, a special event was organized that included the release of a teaser for Rajkumar Hirani's upcoming film, "Dunki." Hirani also shared his previous aspirations to collaborate with SRK.
Shah Rukh Khan made his fans' day extra special by first giving them a glimpse of himself outside his Mumbai residence, Mannat, and later meeting them in a special meet and greet session. During the event, the Bollywood superstar unveiled the teaser for his upcoming comedy film, "Dunki," directed by Rajkumar Hirani. Hirani also shared a fascinating story about his desire to cast SRK in his first film after graduating from film institute.
The special birthday celebration for Shah Rukh Khan was attended by the "Dunki" team, who engaged with a theater full of enthusiastic SRK fans. During this interaction, Rajkumar Hirani revealed his early aspirations as a filmmaker. He recalled his time at a film institute, where he pondered who would be willing to work with a budding director like himself, especially when compared to big stars like Amitabh Bachchan.
Hirani reminisced about the moment when the idea of casting Shah Rukh Khan in his debut film struck him. It happened while he was watching SRK's TV series, "Circus." In a particular scene featuring a young actor delivering a captivating monologue, Hirani was captivated. He thought, "Who is this guy? This is so wonderful. He is not a big actor. I can cast him in my film after I graduate."
ALSO READ: Dunki Drop 1 bash: Shah Rukh Khan is 'excited' to romance in films after years reveals King Khan himself; Read
Rajkumar Hirani is renowned as one of Bollywood's most successful filmmakers, thanks to a string of hit films including "Munna Bhai M.B.B.S.," "3 Idiots," "PK," and "Sanju." Currently, he is busy promoting his upcoming comedy-drama film, "Dunki," which boasts a star-studded cast including Shah Rukh Khan, Taapsee Pannu, Vicky Kaushal, and Boman Irani. The movie is slated for international release on December 21, 2023, followed by a domestic release on December 22, 2023. Fans are eagerly anticipating this collaboration between the acclaimed director and the King of Bollywood.
ALSO READ: Dunki Drop 1 OUT: Shah Rukh Khan as punjabi-munda 'Hardy' gives desi vibes [WATCH]
Last Updated Nov 3, 2023, 9:14 AM IST