Disha Patani excites fans as she embarks on the directorial journey with the music video 'Kyun Karu Fikar'
Bollywood actress Disha Patani makes her directorial debut with 'Kyun Karu Fikar' music video, igniting high anticipation among fans for its release. The teaser fuels excitement for this promising new creative venture. - By Mahasweta Sarkar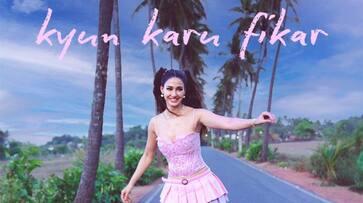 The excitement is palpable as Bollywood star Disha Patani ventures boldly into the realm of directing with her upcoming music video, titled 'Kyun Karu Fikar'. Anticipation has reached unprecedented levels among fans, who are eagerly counting down to the video's release. The fervor has been ignited by a teasing glimpse that left them yearning for more. As Disha Patani takes on this new creative role, her admirers are abuzz with enthusiasm, eagerly awaiting the full unveiling of what promises to be a captivating visual and auditory experience.
Renowned for her mesmerizing on-screen charisma, Disha Patani's foray into directing has ignited intrigue throughout the entertainment realm. The preview of 'Kyun Karu Fikar' has effectively unveiled her artistic perspective and flair, sparking fan curiosity regarding the distinctive cinematic journey she is poised to present.
ALSO READ: Jawan: Advance booking begins in THESE 4 countries, film surpasses Shah Rukh Khan's 'Pathaan' record
Sharing the poster on social media, she wrote in the caption, "You are THE MAIN CHARACTER. Own it Girl # Full video out on 21st August on @playdmfofficial YouTube channel."
Disha Patani's dance prowess has consistently dazzled audiences, evident in hits like 'Hui Malang,' 'Slow Motion,' and 'Do You Love Me.' Her rhythmic finesse has left us awestruck time and again within these musical performances. Now, with 'Kyun Karu Fikar,' she's embarking on a fresh journey, presenting a standalone single that has us brimming with anticipation.
The teaser and poster exude an intoxicating international aura, hinting at a visually mesmerizing experience. The track seems poised to be an anthem of carefree living, capturing the essence of liberation and joy. Fans eagerly wait to witness Disha Patani's directorial debut in this music video, where she's not only the star but also the creative mind behind the camera. Her transition from performer to director sparks intrigue and excitement, promising an innovative perspective that's bound to captivate.
See teaser:
In terms of her professional commitments, Disha Patani's upcoming projects include starring alongside Siddharth Malhotra in 'Yodha,' as well as having 'Kanguva' and 'Suriya 42' lined up in her repertoire.
ALSO READ: Haran Coben's 'Shelter': Where and when to watch THIS new adventure series online
Last Updated Aug 18, 2023, 3:13 PM IST