Did you know Pankaj Tripathi ate only khichdi for 60 days while playing role of Atal Bihari Vajpayee?
Pankaj Tripathi disclosed that he ate only khichdi by himself for the role of Atal Bihari Bajpayee in a recent interview. 'Main ATAL Hoon' revolves around the journey of India's multifaceted former Prime Minister, who was also a poet, a statesman, a leader and a humanitarian.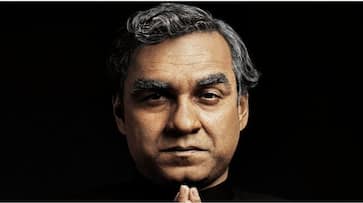 Celebrated for his simplicity, Pankaj Tripathi is strongly fond of home-cooked meals, especially his favourite dish, khichdi. The actor recently disclosed that to fully inhabit the emotional depths of his role as the late PM Atal Bihari Vajpayee in Ravi Jadhav's film Main Atal Hoon, he abstained from eating anything other than khichdi.
Talking to Film Companion, Pankaj said, "In Atal, I shot for around 60 days and for those 60 days, I only ate khichdi, that too the one cooked by me." The actor explained why he didn't let anyone else cook for him or why he didn't order it from a restaurant. "You never know how will others make it. I put no oil or masalas in it. I just use simple dal, chawal and local vegetables, which are available," he said.
Also Read: Bengali filmmaker Goutam Halder dies at 67; WB CM Mamata Banerjee pays tribute
Tripathi also spoke on his early years, stating that he could perform even after consuming a samosa and didn't have to worry about what he ate. He thinks that performers ought to eat healthfully. "To get that emotion right, you need to have a sync between the brain and the body. For that, an actor needs to eat light food," he was quoted saying.
Returning to Main Rahoon Ya Na Rahoon Yeh Desh Rehna Chahiye – Atal, it is a biopic on the former Prime Minister Atal Bihari Vajpayee. It will release in the theatres in December. Tripathi also took to his Instagram handle and dropped a video in which he can be seen flaunting his 'Atal' look. With soothing music in the background of the clip, the video describes Vajpayee as a Prime Minister, poet, statesman and gentleman. In the caption of his post, Pankaj Tripathi penned down a few lines by Pandit Dhirendra tripathi and writes, "Na main kahin dagmagaya, na main kahin sar jhukaya, main atal hoon."
Also Read: Lok Sabha elections 2024: Is Kangana Ranaut to contest on BJP ticket?
Main ATAL Hoon revolves around the journey of our multifaceted ex-Prime minister, who was also a poet, a statesman, a leader and a humanitarian. Ever since makers announced that Pankaj Tripathi will be essaying the role of Atal Ji in his biopic, audiences were waiting with bated breath to see Pankaj Tripathi in the avatar of our ex-prime minister. And needless to say, his commendable first look has now left everyone completely impressed.
 
Last Updated Nov 4, 2023, 11:42 AM IST