Did Joe Jonas become uncaring as Sophie Turner strived after birth of their second child?
Joe Jonas recently filed for divorce from his estranged wife, Sophie Turner. Reportedly, things went downhill between the former couple after the birth of their second child. The sources in their quote to TMZ explained how things went worse after the birth of their second child.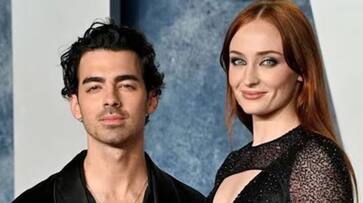 The reports on Joe Jonas and Sophie Turner's failed marriage were revealed globally as a disappointment for the duo's fans days back. Later, speculations officially got disclosed and were confirmed after it got out that the American singer had filed for divorce from his British actress wife at a court in Florida a couple of days back. Even though nothing much was revealed about what exactly went wrong between Jonas and Turner, it had been reported that the drastically different lifestyles played a gigantic role in their split. Now, the latest reports by TMZ suggest that it is not just the lifestyle choices that went wrong between the former couple.
ALSO READ: Who was G Marimuthu? Tamil director and Jailer star dies of heart attack
According to TMZ reports, Joe Jonas was 'less than supportive' as a husband after the couple welcomed their second child in July 2022. If the latest updates are true, then Sophie Turner struggled with post-partum issues and wanted to keep a low profile while the singer forced his wife to attend more events.
A source close to the estranged couple told TMZ, "After their youngest child was born a year ago in July, Sophie didn't want to leave home... She didn't want to be photographed or attend events. Nevertheless, she went to several events with Joe. But at one specific event, several people noticed how Sophie made it clear she was uncomfortable and didn't want to be there. Later, Joe complained Sophie was MIA and felt she needed to get out more when he attended another event shortly after. Then, It was clear that there was a strain in the relationship."
However, as per TMZ reports, Joe Jonas filed for divorce at the beginning of this week after he got irked and triggered by a 'ring camera' audio or video of Sophie Turner. The American singer apparently lost his cool after he watched what the Game of Thrones actress said in the clip and decided to end the marriage. Notably, the ex-couple lived separately for over the last three months.
ALSO READ: RRKPK: Ranveer Singh, Alia Bhatt steamy scenes from extended uncut medley goes viral [WATCH]
Last Updated Sep 8, 2023, 11:53 AM IST