Did Cristiano Ronaldo ignore Salman Khan? Check out this viral video for the truth | WATCH
A video of Cristiano Ronaldo waking past Salman Khan went viral. Salman was being made fun of for not being ignored. However, the misunderstanding has ended thanks to a recent viral video where the celebs can be seen chattering.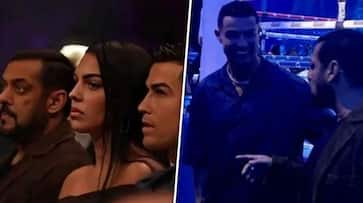 Recently, Salman Khan travelled to Saudi Arabia to see a boxing event. Soon after the game, several pictures with Salman seated near to Cristiano Ronaldo and his fiancée Georgina Rodriguez went viral. It was said that football player Cristiano Ronaldo disregarded Bollywood actor Salman after a video of them strolling by each other went viral on Monday. Some even went so far as to launch a fan war on X, the old name for Twitter, believing the football player had no regard for their nation's celebrities. 
These images and videos have been all over social media since yesterday, and Salman has even been the target of trolling. It's been reported that Ronaldo didn't even recognise him because of his lack of universal appeal. Even yet, others drew attention to the fact that they sat together but did not converse. 
Also Read: Varun Tej, Lavanya Tripathi Wedding: Allu Arjun, Ram Charan looks dapper at cocktail party
But now all the bubbles have popped, thanks to a video from the same occasion. The two celebs can be seen deeply engaged in discussion in the latest video. Ronaldo can be seen chuckling in the footage as Salman says something. Georgina, his partner, is seated across from them.
The misunderstanding that anyone was forgotten in that instance has been dispelled. In his industry, Ronaldo is a legend and the Salman of the Indian industry. Salman would never have shrunk in stature, even if Ronaldo had never met him. But Salman's admirers are really at ease now that they have this picture because they have been witnessing Salman's trolling since yesterday. 
Also Read: Tejas: Uttar Pradesh CM Yogi Adityanath to watch Kangana Ranaut's film at Lok Bhawan
About the event
The Saudi Arabian minister Turki Al-Sheikh, who also serves as the head of the government's entertainment division, "General Authority and Entertainment," planned this event in Riyadh. He had sent invitations to world-renowned people to take part in this occasion. India's Salman Khan received an invitation. In addition to Salman, prominent rapper Eminem and retired boxer Mike Tyson were in attendance. Attendees at the event included several celebrities, such as boxer Tony Jeffries, who won an Olympic medal. Conor McGregor, a professional boxer and fighter in mixed martial arts, rapper Kanye West, and The Undertaker.
 
Last Updated Oct 31, 2023, 11:56 AM IST