Varun Tej, Lavanya Tripathi Wedding: Allu Arjun, Ram Charan looks dapper at cocktail party
Varun Tej and Lavanya Tripathi began their pre-wedding celebrations in Italy with a star-studded cocktail party. The glamorous event featured industry stars and marked the start of a series of upcoming festivities, including their wedding on November 1. The groom, Varun Tej, is set to wear a cream-gold sherwani, while Lavanya Tripathi will choose a traditional ruby-red Kanchipuram saree. The couple will also host an intimate wedding reception in Italy. Stay tuned for more updates on their wedding festivities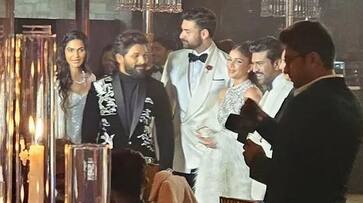 Varun Tej and Lavanya Tripathi commenced their pre-wedding celebrations in the beautiful setting of Italy with a star-studded cocktail party. The evening was graced by the presence of some of the industry's biggest personalities, creating memories that will surely be cherished for years to come.
In addition to their grand wedding celebrations against the stunning backdrop of Italy, Varun and Lavanya hosted a splendid cocktail party on October 30. The event was a warm welcome to their beloved friends and family, offering the couple a well-deserved respite before the bustling festivities of mehendi, haldi, and a vibrant pool party. Guests were requested to adhere to the "Glitz and Glamour" dress code, and the gentlemen certainly lived up to it, appearing in immaculate white bowtie suits that added an extra touch of elegance to the soirée.
The evening sparkled with the presence of some of the entertainment industry's most prominent figures, including the charismatic Allu Arjun, the ever-charming Ram Charan, and the flamboyant groom himself, Varun Tej. Each of them exuded a dapper charm in their sleek white and black suits, perfectly capturing the essence of the occasion. Meanwhile, Upasana looked stunning in a sophisticated black gown, exuding both elegance and confidence.
Lavanya Tripathi chose a princess-like white dress that exuded an ethereal charm, while Sneha Reddy also opted for a white dress, adding a touch of timeless elegance to the festivities. The night was simply spectacular, with stars shining brightly both in the sky and among the attendees, creating memories that will undoubtedly be cherished for years to come.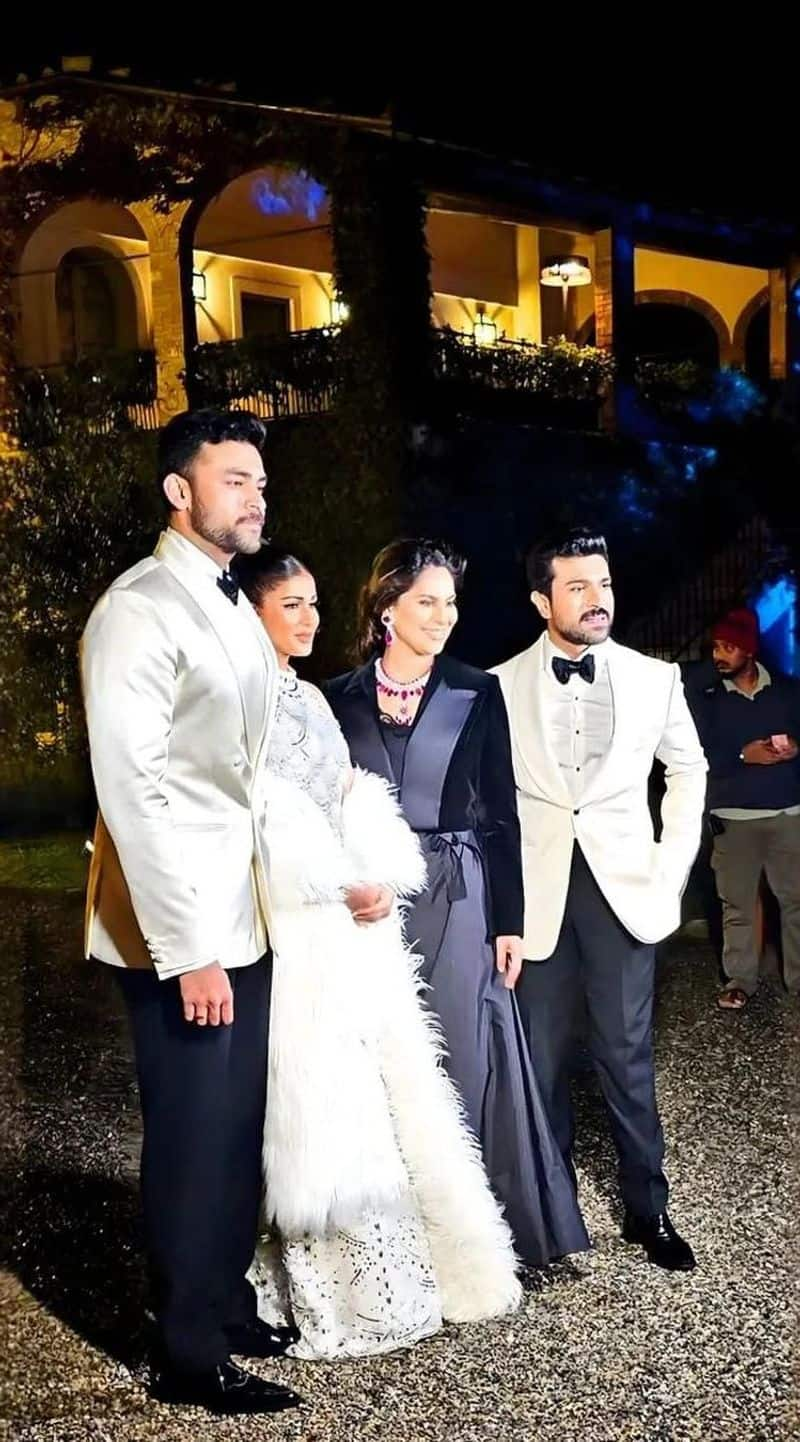 More details about Varun Tej and Lavanya Tripathi's wedding festivities are as follows: The couple is set to tie the knot on November 1. Today, on October 31, the pre-wedding celebrations will kick off with a Haldi ceremony, a pool party, and a Mehendi ceremony. In Italy on November 1, Varun Tej and Lavanya will exchange their wedding vows. The event will be graced by the presence of prominent figures such as Ram Charan, Allu Arjun, Chiranjeevi, Pawan Kalyan, Sai Dharam Tej, Niharika Konidela, and other members of the Konidela-Allu family, marking a joyous reunion under one roof after a significant period.
It has been reported that Varun Tej will be adorned in a cream-gold Manish Malhotra sherwani with a dhoti, styled by Ashwin Mawle and Hassan Khan. The bride, Lavanya Tripathi, will opt for a traditional look, wearing a ruby-red Kanchipuram saree paired with a long, dreamy customized veil.
ALSO READ:Bigg Boss 17: Ankita Lokhande talks about her breakup with late Sushant Singh Rajput, "Wo ek dum rak raat"
Following the wedding ceremony, the couple has arranged an intimate wedding reception for their guests in Italy. Varun will be seen in a Swarovski-embellished tuxedo designed by Manish Malhotra, while Lavanya will be dressed in an electric-blue crystallized gown with a dramatic cape.
Last Updated Oct 31, 2023, 11:31 AM IST