Lok Sabha election: Darshan to support this candidate in Mandya; will Sudeep, Yash follow suit?
If Sumalatha and Nikhil Kumaraswamy are pitted against each other, who will Darshan, Sudeep and Yash support?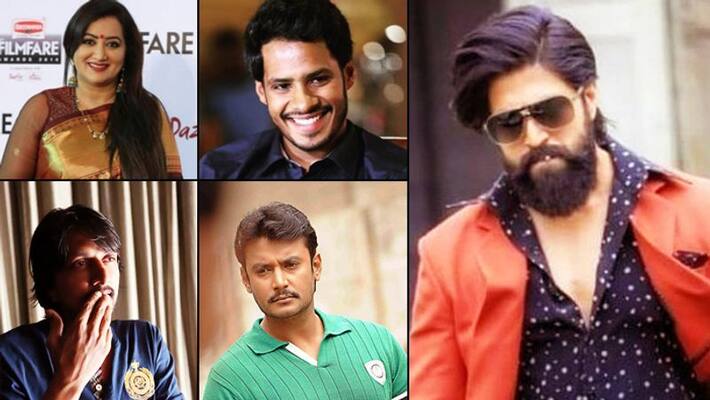 Bengaluru: The number of film stars contesting elections has gone up considerably in Karnataka. With veteran actress Sumalatha all set to jump into the poll fray and actor Nikhil Kumaraswamy too set to make his debut in politics, the situation is unfolding like a film story in Mandya constituency.
With people already divided over their choice for Mandya, even stars are facing difficulties picking sides with the two likely star opponents.
While Challenging Star Darshan has made his intentions clear, other stars connected with Mandya including Yash and Sudeep have not made their choices clear yet.
All three stars share a close relationship with Sumalatha, the wife of later actor-politician Ambareesh. Darshan has already made it clear that he will support Sumalatha.
"My family is not different from that of Ambareesh mama's. Whatever decision Sumalatha Amma takes, I will abide by that and I will support her and campaign for her in the election," Darshan said.
But Sudeep and Yash also have cordial relationship with Nikhil's family. In fact, chief minister Kumaraswamy had come to Sudeep's house and both had discussed films, according to sources.
On the other hand, Yash is very close to Sumalatha and her family as well as shared a good bond with Kumaraswamy and family.
Even if both do not campaign for Nikhil, it will be a tough task to campaign against Sumalatha, considering the filmy bond the stars share.
With the Congress not giving Sumalatha ticket to contest from Mandya, she is likely to contest as an independent. The JD(S) is keen on fielding Nikhil, whereas the BSP has welcomed Sumalatha and said they are ready to give her ticket if she wants to contest.
BJP leader Yeddyurappa has clarified that Sumalatha has not approached them seeking a ticket from Mandya.
Last Updated Mar 7, 2019, 4:22 PM IST