BTS' Taekook goes live, V and Jungkook spend fun time with fans
Fans have been sharing videos, photos and also gifs on Twitter showing their excitement about the live session conducted by BTS' Taekook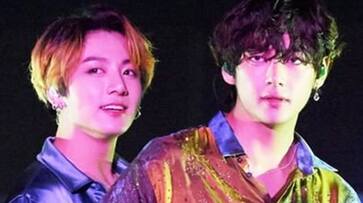 Among the 7 members in BTS, the army has always been clubbing two artists namely V and Jungkook together. They are fondly called Taekook.
Today, Taekook surprised fans after they went live together making the army lose their calm instantly. In the live video, they addressed themselves as 'Taekook' and also answered some of the questions thrown at them by their fans.
In the live video, the duo showed their origami skills.
As per BTS Wiki, penned by fans, 'Taekook is the friendship pairing between V and Jungkook. Taehyung and Jungkook are very close and always joke around with each other.'
Apparently, fans also consider April 5 as Taekook day.
BTS have become one of the biggest artists in the world and have outdone nearly all of their peers. Their constant desire to deliver to their fans have made them what they are - undoubtedly, one of the biggest sensations in the music world.
Map of the Soul:7:
This is the fourth studio album from the K-pop supergroup. It features a whopping 20 tracks. Map of the Soul features several singles from Persona, plus previously released tracks Black Swan, Interlude: Shadow and Outro: Ego.
Last Updated May 5, 2020, 1:45 PM IST