Bigg Boss 17: Aishwarya Sharma, Mannara, and Munawar nominate Ankita Lokhande, but why; read this
Bigg Boss 17 update: The nomination process will occur inside the house in the upcoming episode of 'Bigg Boss 17'. A new promo shares a glimpse of that. Bigg Boss has nominated Anurag Dobhal till the end of the show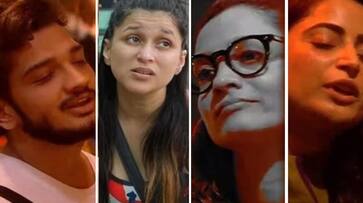 The drama and entertainment value of "Bigg Boss 17" have captivated viewers. Fans of the show will see an intriguing nomination procedure in the next episode. When Ankita Lokhande was granted the authority to eliminate three competitors from the race using a unique ability last week, she took the names of Aishwarya Sharma, Mannara Chopra, and Munawar Faruqui. The latest teaser depicts them stealing her name and nominating it as payback.
The nomination process for "Bigg Boss 17" is depicted in the latest teaser video. In retaliation, Aishwarya Sharma, Mannara Chopra, and Munawar Faruqui put Ankita Lokhande up for removal. 
Also Read: Bigg Boss 17 update: Ankita Lokhande points middle finger to Abhishek Kumar 
Aishwarya says, "You are trying to be the leader but you are not the leader." Munawar tells Ankita, "Jab ap dil se khelte ho na, to doosro ke dil ka bhi khayal rakhiye (If you are playing by your heart, then take care of other people's hearts as well)."
The promo is captioned, "#NominationSpecial mein kiska hoga sabse aage name? Dekhiye #BiggBoss17, Mon-Fri 10 PM & Sat-Sun 9 PM sirf #Colors aur @officialjiocinema par (sic)."
About Bigg Boss 17:
On October 15, Salman Khan's programme returned with a brand-new season. Dramatic entertainment is available 24 hours a day, seven days a week on JioCinema with "Bigg Boss 17." As an alternative, the programme will start at 9 p.m. on Colours TV.
Also Read: Bigg Boss 17: Ankita Lokhande talks about her relationship with Sushant Singh Rajput 
'Iss baar game nahi hoga sabke liye same to same' is the house theme, which raises the possibility that Bigg Boss may abandon his cherished equality tenet. "BB 17" boasts an array of novel and captivating features, including the Archive Room. This space will function as an extensive library, containing video from each episode of the current season. This time, "BB 17" is likewise split into three houses: Dil, Dimaag, and Dum.
'Bigg Boss 17' contestants include former partners Abhishek Kumar and Isha Malviya, Rinku Dhawan, Arun Mashettey, Sunny Arya, Firoza Khan (also called Khanzaadi), Jigna Vora, Sana Raees Khan, Anurag Dobhal, Munawar Faruqui, Ankita Lokhande and Vicky Jain, Navid Sole, Neil Bhatt, Aishwarya Sharma, Samarth Jurel, and Mannara Chopra.
First to be kicked out of the 'Bigg Boss 17' home was Soniya Bansal. Additionally, Manasvi Mamgai was expelled.
Last Updated Nov 15, 2023, 4:08 PM IST