Bigg Boss 17 update: Ankita Lokhande points middle finger to Abhishek Kumar escalating argument [WATCH]
In the latest Bigg Boss 17 episode, Ankita Lokhande and Abhishek Kumar clashed over cleaning duties. The argument escalated, with Ankita showing the middle finger to Abhishek. Vicky Jain intervened, emphasizing Ankita's crossing of a line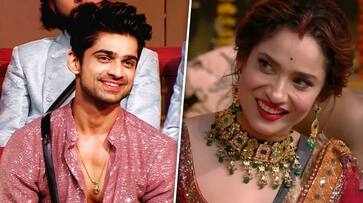 In the recent episode of Bigg Boss 17 that aired on November 14, tensions ran high as Ankita Lokhande found herself in a heated argument with fellow contestant Abhishek Kumar. The dispute centered around the cleaning of the platform, and it eventually escalated to a point where Ankita showed the middle finger to Abhishek.
The disagreement began when Ankita overheard a conversation between Munawar Faruqui, Abhishek Kumar, and Samarth Jurel discussing the cleaning of the platform area. Ankita intervened, asserting that one person is sufficient for the task, stating, "Platform clean karne ke liye do log nahi lagte, mein karte aa rahi hu hamesha se akele" ("You don't need two individuals to clean the platform. I have been doing it alone forever").
Abhishek responded by questioning Ankita's claim, alleging that she had never cleaned the platform during his time in the house. Munawar Faruqui chuckled at this, adding a lighthearted tone to the exchange. The argument continued with Abhishek suggesting that Ankita should refrain from speaking if she didn't want to participate in the cleaning.
Ankita retorted, asking Abhishek to speak respectfully. In response, Abhishek suggested she shouldn't do it if she didn't want to and remarked, "Aapka jab jhoot pakda jaata hain, aap chale jaate hain" ("Whenever you are caught lying, you walk away"). He then sought confirmation from Vicky Jain, asking when Ankita had ever cleaned the platform.
Ankita turned to Vicky, challenging Abhishek to provide proof. Vicky clarified that Ankita and Neil had indeed cleaned the platform multiple times. Abhishek continued his accusations, claiming that Ankita always shirks her responsibilities and avoids work. Vicky Jain intervened, urging Abhishek to calm down. However, this only fueled Ankita's frustration, leading her to show the middle finger to Abhishek.
ALSO READ: Courteney Cox pens heartfelt note for her 'Chandler Bing' aka Matthew Perry two weeks after his demise; Read
Abhishek, visibly angered, exclaimed, "Ankita Lokhande jo TV ki 6 saal se star hain, aur 4 Bollywood films kii hain, unhone mujhe middle finger dikhai hain. Aapko yahi aati hain" ("Ankita Lokhande, who has been a TV star for the last six years and has done 4 Bollywood films, showed me the middle finger. This is what you are capable of"). Vicky Jain stepped in, acknowledging that Ankita had crossed a line during the argument.
ALSO READ: 'Had a slip of tongue': Abdul Razzak apologises for derogatory comments on Aishwarya Rai (WATCH)
Last Updated Nov 15, 2023, 12:45 PM IST