Arnold Schwarzenegger Netflix docu-series: Actor opens up on facing 'tough childhood'
Arnold Schwarzenegger will spill the beans about his tough childhood spent under a tyrant father in the much-awaited and upcoming Netflix docu-series. Here is all that you need to know.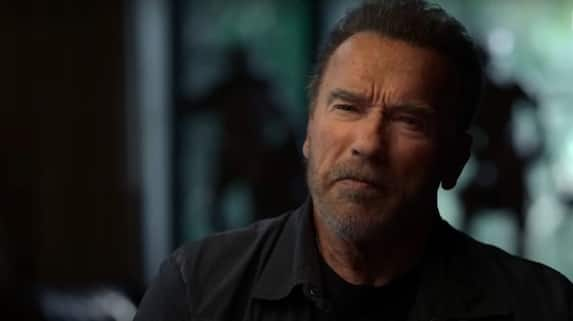 Arnold Schwarzenegger will share all the memories of his tough childhood spent under a tyrant father in his upcoming three-part Netflix docu-series, Arnold. The Terminator actor will give a detailed insight into his childhood days in the docu-series premiering on Thursday at 12:30 am IST.
Arnold Schwarzenegger, who grew up in Austria, will candidly open up about his upbringing in the limited series. It details his scandal-filled personal life and career as an actor, politician and bodybuilder. The three-part Netflix docu-series shows the A-lister talking about his father, Gustav Schwarzenegger.
ALSO READ: Arnold Schwarzenegger shares painful memory of revealing his 'extra-marital affair' to Maria Shriver
For those unaware, Arnold's father Gustav was a Nazi Party official whom Arnold depicted as a tyrant. The actor said his father might have suffered countless mental health struggles.
Recalling his father, Arnold said, "He was buried underneath buildings, rubble, for three days, and on top of that, they lost the war. They went home so depressed. Austria was a country of broken men. I think there were times where my father really struggled."
In the new Netflix docu-series titled Arnold, the 'Terminator' fame acclaimed Hollywood also star opened up about his Hollywood career, his tenure as California governor and personal scandals that played a huge role in breaking up his entire family.
However, this is not the only thing Arnold will share in his upcoming docu-series. He also detailed the painful and shattering moment he had to confess to his then-wife Maria Shriver about his extramarital affair with their housekeeper, Mildred Baena and their shared child. However, in 2011, his ex-wife confronted him about their son Joseph, born in 1997.
ALSO READ: Rakul Preet Singh bikini photos: Actress looks sizzling in colourful beach attires (PICTURES)
Last Updated Jun 8, 2023, 9:32 AM IST