Ant-Man And The Wasp: Quantumania trailer OUT - Fans laud 'most solid storyline in MCU'
After teasing the ardent Marvel fans globally with a trailer and new still, the makers have only piqued more curiosity of film connoisseurs and cinema lovers by dropping the fresh trailer of much awaited Marvel film, 'Ant-Man And The Wasp: Quantumania'.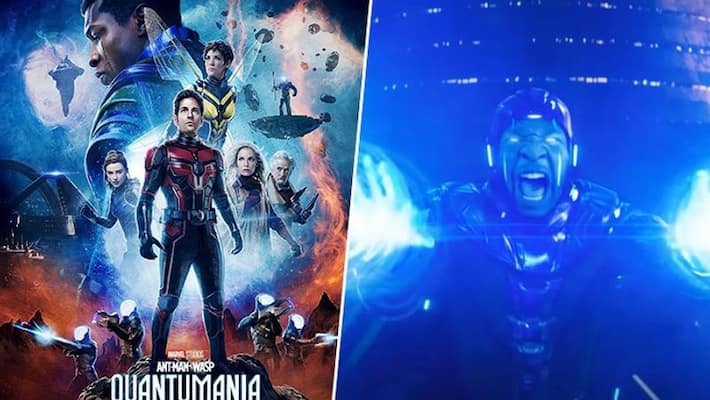 We all have grown up watching Marvel films. Our childhood will always be incomplete without superheroes like Spider-Man, Iron Man, Captain America, Ms. Marvel, Hawkeye, Hulk, She-Hulk, Wandavision, Thor, Thanos, and so on.
While it is absolutely no doubt that Marvel Studios has been dominating globally as the leader in creating the best fantasy adventure films with new superheroes and villains that have a strong fanbase globally, this is true that in recent years the ardent Marvel fanatics and netizens have globally slammed and criticized the Marvel makers for making bad and poor quality posters which were not much appealing enough to them, and now finally looks like makers have actually listened to the fans complaints this time. Makers have taken all the criticism and dropped the fresh and intriguing trailer of the film a couple of hours back. 
ALSO READ: Moon Rise Song Out Now: Guru Randhawa, Shehnaaz Gill feature in a touching love story in this romantic track
Superhero partners Scott Lang (Paul Rudd) and Hope van Dyne (Evangeline Lilly) return to continue their adventures as Ant-Man and the Wasp in Antman and the Wasp: Quantamania. Hope's parents Janet, Hank Pym with Scott's daughter Cassie Lang find themselves exploring the Quantum Realm, interacting with strange new creatures, and embarking on an adventure that will push them beyond the limits of what they thought possible. Directed by Peyton Reed and produced by Kevin Feige, p.g.a. and Stephen Broussard, p.g.a., "Ant-Man and The Wasp: Quantumania," also stars Jonathan Majors as Kang, Michelle Pfeiffer as Janet Van Dyne, Michael Douglas as Hank Pym, Kathryn Newton as Cassie Lang, David Dastmalchian as Veb, Katy O'Brian as Jentorra, William Jackson Harper as Quaz and Bill Murray as Lord Krylar.
The trailer gives ardent Marvel fanatics glimpses of Scott Lang (Paul Rudd), an avenger with a daughter named Cassie. He creates a deal with a supervillain named Kang to make up for the lost time in his daughter Cassie's life. But everything goes haywire when he does not listen to the warnings of his family members and still trusts Kang. It leads to a war between Ant-Man Scott, with the Wasp, Kang. We see glimpses of the Wasp trying to control Scott. Scott and Kang also have a showdown towards the end. This results in Scott sacrificing his life for his beloved daughter Cassie. Overall the trailer is power-packed and has a mix of action, fantasy, adventure, a war between good and evil, emotional backstory, stellar performances, outstanding graphics and VFX work, brilliant visuals, and remarkable cinematography. It has given only a broad outline, not the entire story, and yet made Marvel fans curious for more.
Makers dropped the trailer on Twitter on January 10. As soon as the trailer got released, die-hard Marvel fans turned Twitter into a tweet fest as they gave rave reviews about the trailer.
"Three #Antman films just minding their own business as the most-solid, most-plot-critical storylines in the #MCU. This trailer is WOWSERS. #AntManAndTheWaspQuantumania," said a fan. "You know Marvel is taking the movie seriously, when there is no corny joke at the end," said another fan. "Phase 5 is going to be super dark! X10 time better in quality and got damn!," a fan shared. "Okay so #AntManAndTheWaspQuantumania looks really good. It is going to be the best Marvel movie since Shang-Chi for me. The VFX are a big dodgy (after seeing #AvatarTheWayOfWater fantastic visuals), but the plot looks interesting," a fan added.
Trailer
The much-awaited trailer of Ant-Man And The Wasp: Quantumania is out now. The Marvel film drops globally in theatres on February 17, 2023, in India in English, Hindi, Tamil, and Telugu.
ALSO READ: Marvel's awaited 'Ant-Man And The Wasp: Quantumania' new poster out; fans say, 'Nailing it with this poster'
Last Updated Jan 10, 2023, 4:15 PM IST