Amitabh Bachchan's response to fan concern about Abhishek Bachchan's acting talent sparks emotion
Amitabh Bachchan's heartwarming reply to a fan's tweet about Abhishek Bachchan's underrated acting career. Amitabh praised Abhishek's consistent growth and encouraged positivity. They also discussed Abhishek's commitment to audiences. 'Ghoomer' starring Abhishek Bachchan and Saiyami Kher released on 18th August in theatres--by Amrita Ghosh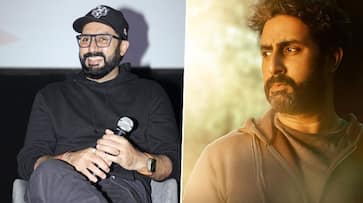 Amitabh Bachchan responded to a fan's tweet expressing sadness about Abhishek Bachchan being underrated despite his strong performances in films like "Yuva," "Guru," "Dhoom," "Kabhi Alvida Na Kehna," "Dostana," "Sarkar," "Bunty Aur Babli," "Bol Bachchan," "Manmarziyaan," "Bob Biswas," "Ludo," "Dasvi," and "Ghoomer." The fan's tweet read, "I always feel sad for #AbhishekBachchan @juniorbachchan always underrated although he has proven his talent & given his best in #Yuva #Guru #Dhoom series #KANK #Dostana #Sarkar #BuntiBubli #BolBachchan later he goes strong with #Manmarziyan #BobBiswas #Ludo #Dasvi now in #Ghoomer."
Amitabh Bachchan's heartwarming reply to the fan's tweet was, "Don't feel sad.. be happy.. the fact that he continues and excels with each endeavor.. CONTINUES.."
In addition, Amitabh Bachchan responded to another fan who shared a video clip of Abhishek Bachchan's interview where he talked about his approach to criticism. Abhishek emphasized his responsibility towards his audience and their investment in his films. Amitabh Bachchan agreed with Abhishek's perspective and replied, "'I agree entirely.. love you Bhaiyu."
ALSO READ: Ram Kapoor turns 50: 'Neeyat' star inspires fans with his weight loss journey; sheds 30 kgs
 "Ghoomer," directed by R Balki, stars Abhishek Bachchan and Saiyami Kher in lead roles. The story revolves around Abhishek's character, a coach, whose life takes a significant turn when he encounters a paraplegic sportsperson, played by Saiyami Kher. The film also features Shabana Azmi and Angad Bedi. It was released in theaters on August 18.
ALSO READ: Jawan trailer at Burj Khalifa: Shah Rukh Khan's witty response to fan booking an entire restaurant to meet him
Last Updated Sep 1, 2023, 11:14 AM IST