Amidst coronavirus scare, Sandalwood D Boss Darshan hospitalised
Just a day after the release of the first song Ba Ba Ba Na Ready from the Kannada film Roberrt, Sandalwood star Darshan has been hospitalised for acute gastritis in Mysuru, Karnataka

Mysuru: Sandalwood star Darshan's upcoming film Roberrt created a rage on social media after the release of its solo track 'Ba Ba Ba Na Ready' on Monday as it clocked over 1 million views in 24 hours.
However, we have some sad news for Darshan fans. Renowned Kannada film actor Darshan has been admitted at a private hospital in Mysuru, Karnataka, today.
The actor has been hospitalised at Columbia Asia Hospital in Mysuru and producer Sandesh confirmed the news.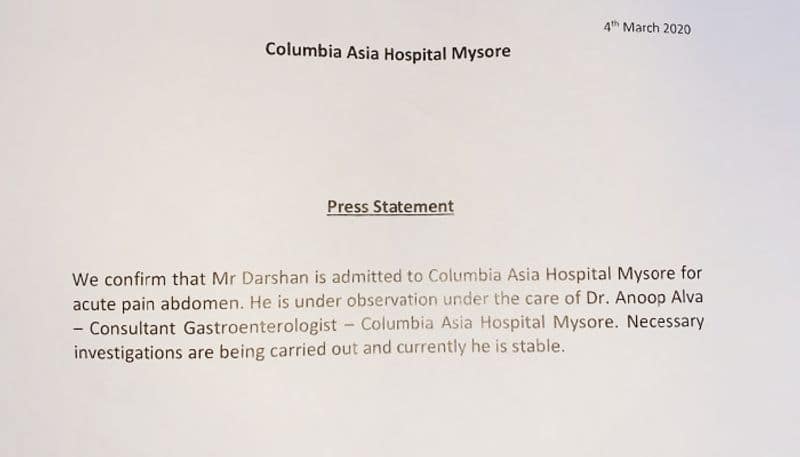 Sandesh revealed, "Darshan is suffering from gastritis. He was in Mysuru to visit his horses at his stud farm as he wasn't busy with his shooting for the past 3 days. During this course, a severe pain shot up his abdomen and he was taken to the hospital. He underwent a body check-up including his kidney, heart and wounded hand. All his reports are normal. He will be discharged soon."
Columbia Asia Hospital in Mysuru released a press statement which stated that Dr Anoop Alva is treating the Sandalwood superstar for gastritis.
With the state on high alert to tackle coronavirus, Darshan's fans were in for a shock as soon as this piece of news broke out. But there's nothing to panic as Darshan will be out of the hospital soon.
We hope you recover soon, Darshan.   
Last Updated Mar 4, 2020, 8:07 PM IST