'Tiger 3': Has Shah Rukh Khan refused appearance with Salman for promotions? KNOW details
After a long wait and anticipation among cinephiles and ardent Salman Khan fans, the makers have revealed the much-awaited trailer of the actioner-thriller extravaganza film 'Tiger 3' from the YRF Spy Universe. Recent reports claim that Shah Rukh has refused to appear with the 'Tiger' of the Bollywood industry, Salman Khan, to embark and start the awaited movie promotions. Know more details here.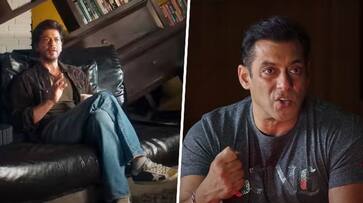 Salman Khan and Katrina Kaif starrer Tiger 3 trailer is finally out. Fans were eagerly waiting for it. From an intense action scene to a beautiful romantic scene. Everything in the film looks excellent. But the netizens had their eyes fixated on the character of SRK, Pathaan, to make a smashing appearance. While that did not happen, there is buzz that Shah Rukh Khan's character Pathaan will directly feature in the release of Tiger 3.
ALSO READ: 'Tiger 3' trailer REACTION: Fans hail Salman Khan's 'powerful dialogue' and 'action' against Emraan Hashmi
Sources, in their quote to a renowned Indian entertainment portal, have revealed details on the same. They have disclosed that the film promotion would be totally highlighted and handled by Salman Khan and Emraan Hashmi for Tiger 3. As for those who want to catch a glimpse of Shah Rukh Khan, they have to wait till Diwali.
The source shared, "The entire campaign of Tiger 3 will revolve around Salman Khan with Katrina Kaif and Emraan Hashmi joining in the last leg, post the trailer launch. Those expecting Pathaan, aka Shah Rukh Khan, to mark his presence to market the film will have to wait for the film to blast big on the big screen on November 12."
The source also stated, "While SRK in Tiger 3 is known to all, much like Salman in Pathaan, the makers are adopting strict vigilance to ensure no leaks on the cameo. Especially with regard to visuals. While some filmmakers open all cards before the release, Aditya Chopra believes in adopting the Hollywood approach – Keep it all secret for the big screen."
The trailer is brilliant and flawless, which presents a mix of all quintessential elements that are present in YRF Spy Universe films like the stunning action element, love, drama, murder, emotions, anger and love for motherland Bharat, and importantly, Tiger and Zoya having deadly chase with Emraan to save their personal life and also the country. The movie Tiger 3 drops on November 12, 2023, which is Diwali, nationwide and globally across theatres. Definitely, the excitement and zeal among cinema lovers to see Tiger, Zoya and Emraan Hashmi have amplified manifolds after watching the spectacular and well-made trailer.
ALSO READ: 'Gazab bezatti hai': Fans mock Tiger Shroff as he discloses about 'farting' controversy
Last Updated Oct 16, 2023, 2:38 PM IST