'Theeppori Benny' Review: Is Arjun Ashokan's movie worth watching? Read THIS
Malayalam actor Arjun Ashokan's 'Theeppori Benny' made its theatrical debut on Friday (Sep 22). The veteran comedy actor Jagadish played an important role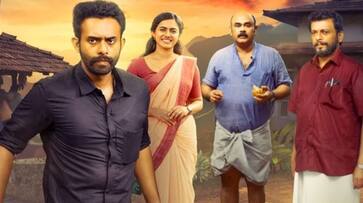 Malayalam actor Arjun Ashokan's 'Theeppori Benny' made its theatrical debut on Friday (Sep 22). The veteran comedy actor Jagadish played an important role in this film.
The movie is written and directed by Joji Thomas, who directed blockbuster movies like Vellimoonga and Johny Johny Yes Appa. The movie was produced under the banner of Shebin Backer Productions.
The script for Theeppori Benny was beautifully written by Joji Thomas and Rajesh Mohan. The script explores the warmth of the father-son relationship, the problems that arise in their family while playing politics, and love. Ajay Francis George deserves applause for capturing the beauty of the village.
The movie stars Femina George in the female role. TG Ravi, Premprakash, Shaju Sridhar, and Sreekanth Murali, among others, played the lead roles in this film.
Even the characters who come and go in a scene have handled their parts with dignity. Jagadish and Arjun Ashok have sparked fire in the father-son combo. Jagadish was able to convey to the audience how much affection and love a father has for his son. Anyway, Theopori Benny is a great movie to watch with your family.
The film has an impressive team working behind the scenes. Ajay Francis George is the cinematographer, and there are three co-producers: Ruwais Shebin, Shibu Backer, and Faisal Backer. Srirag Saji is the music composer, Suraj ES is the editor, and Vinayak Sasikumar is responsible for the lyrics. Mithun Challissery is overseeing the production design, and Rajesh Mohan serves as the production executive.
Arun Verma MPSE is the sound designer, and sound mixing is done by Ajith A. George. Costume and design are managed by Femina Jabbar, while Mafia Shashi coordinates the stunts. Manoj Kiran raj handles makeup, Kudamalloor Rajaji is the chief associate director, and Udayan Kaprassery takes care of finance control. Prigin Jesse is the associate director, and Promise manages the VFX. Alex E. Kurien serves as the production controller, Aji Muscat handles stills, and Liju Prabhakar is the colorist. Kannan Mohan is responsible for trailer cuts, Jisen Paul is credited with the film's title, and Central Pictures manages distribution. The film's PR is handled by Haynes, with designs by Yellow Teeth and marketing by Snakeplant.
Last Updated Sep 22, 2023, 3:48 PM IST