'The Vaccine War' Teaser OUT: Nana Patekar in Vivek Ranjan Agnihotri's directorial peaks fan curiosity
Director Vivek Ranjan Agnihotri and actor-producer Pallavi Joshi present the teaser of their upcoming film 'The Vaccine War.' A glimpse into their captivating narratives that spotlight crucial issues. - By Mahasweta Sarkar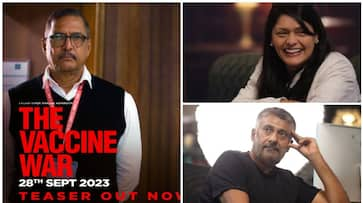 Director Vivek Ranjan Agnihotri and actor-producer Pallavi Joshi have consistently brought captivating and thought-provoking narratives to audiences through their events and films. These stories not only shed light on significant issues but also elevate the nation's recognition globally. Continuing this trend, they have unveiled the teaser for their highly anticipated film 'The Vaccine War' on Independence Day, August 15th.
About the teaser
ALSO READ: Shah Rukh Khan's old handwritten letter from college days goes VIRAL; Know details here
The anticipation surrounding Vivek Ranjan Agnihotri's upcoming film 'The Vaccine War' has been steadily building since its announcement. The movie promises to narrate the triumphant tale of both scientists and the 130 crore people who unknowingly engaged in the battle during the COVID-19 era. With the teaser now unveiled, it offers a glimpse into a technologically advanced lab where the vaccine is meticulously crafted. Another shot captures a group of scientists moving towards an elevator, symbolizing a significant yet discreet advancement in vaccine development. As they enter the elevator and turn around, the teaser introduces the first look of Pallavi Joshi portraying a real-life scientist, along with her team of assistants. This teaser sets the stage for an intriguing cinematic experience centered on a timely and significant subject.
The unveiling of Pallavi Joshi's main character in the teaser assures a compelling performance. While the teaser doesn't reveal much about the film, each scene and frame sparks curiosity. The teaser offers glimpses of Sapthami, Pallavi Joshi, Nana Patekar, and other cast members, promising intricate narratives to unravel. 'The Vaccine War' is poised to be released in 10 languages, marking an unprecedented cinematic endeavor.
Announcing the release date of the film, Vivek Ranjan Agnihotri wrote on Twitter, "DATE ANNOUNCEMENT: Dear friends, your film #TheVaccineWar #ATrueStory will release worldwide on the auspicious day of 28th September 2023. Please bless us."
Watch teaser:
While expressing her exhilaration about the release of the teaser, the actor-producer, Pallavi Joshi said, "'The Vaccine War' is a very special film that will narrate the real story of the vaccine war that our country fought together against the hazardous COVID-19 virus. As the teaser captured some essential moments from the film, we are eagerly excited to present the film to the globe and show the glory proudly of our country."
ALSO READ: 'RDX' trailer OUT: Shane Nigam, Neeraj Madhav, Antony Varghese create perfect trio (WATCH)
Last Updated Aug 15, 2023, 12:10 PM IST