IPL 2022: Is Shreyas Iyer a good captain? 7 statements from KKR skipper after RCB loss that prove so
Despite losing their IPL 2022 clash against RCB, KKR skipper Shreyas Iyer felt extremely proud of his team for taking the match till the final over.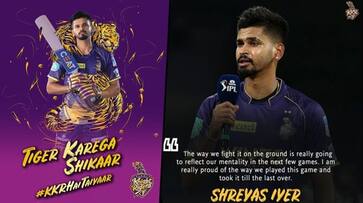 Despite losing their Indian Premier League (IPL) 2022 clash against Royal Challengers Bangalore (RCB), Kolkata Knight Riders (KKR) skipper Shreyas Iyer felt extremely proud of his team for taking the match till the final over. In a low-scoring thriller at Navi Mumbai's DY Patil Stadium, Kolkata tried to defend a paltry score of 128 but was unable to do so despite taking three wickets in the first six overs as Bangalore completed the chase with four balls to spare.
Following the loss to RCB, Shreyas Iyer was extremely appreciative of his team and made some really strong comments that prove why he was made KKR's captain. Here's a look at 7 statements made by the KKR skipper following the team's loss to RCB:
Also read: IPL 2022: Is Dinesh Karthik as cool as MS Dhoni? RCB captain and fans answer
1. "Before getting in, I spoke with my boys and told them that this game is going to define our character and attitude on the field no matter we defend or not," Iyer said in the post-match presentation.
2. "The way we fight it on the ground, that is really going to reflect our mentality in the next few games," a motivating KKR captain stated.
3. "I am really proud of the way we played this game and took it till the last over," a pleased Iyer added.
4. Iyer also appreciated his opponent's strategy while chasing, which indicates that as a captain, he embraces a loss with grace. "It was really tough at that moment because I wanted to get my best bowlers up there and get a few wickets early on, but it didn't work out really well. Kudos to their batsmen. They played really well out in the middle. They took out the toughest phase as soon as possible," the KKR skipper said.
5. When Shreyas handed the 19th over duties to part-time pacer Venkatesh Iyer, several questions were raised if the KKR skipper had made the right choice. However, Shreyas backed his instinct in yet another quality that showcases his captaincy skills. "In the end, I decided to go with Venky because he's also got really good experience bowling at the international level, and you need to back them, especially at the start of the tournament. It's really important they gain confidence as early as possible, and this was one of the best games to get that," Iyer explained.
6. Iyer also vowed to make a strong comeback in the next match. "We are going to come back with the same mindset. We are not going to chicken out. That's what we want to focus on, and that's what we spoke about coming into the tournament that we'll be someone who'd be taking risks. Next time when we come, we need to rectify the errors and see to it that we get the momentum as early as possible," the KKR captain stated. 
Also read: IPL 2022: RCB's Hasaranga reveals story behind Neymar-like celebration
7. Like a true sportsman, Iyer signed off by speaking highly of RCB leg-spinner Wanindu Hasaranga's spell of 4/20. "He (Wanindu Hasaranga) bowled really well. He got off to a good start after getting my wicket. I was able to read him pretty well at the start. We had decided that we'll play him as an off-spinner, but unfortunately, he bowled really good lines and lengths. He's also very experienced, and he was getting some help on this wicket. Congratulations to him," the KKR skipper concluded.
Last Updated Mar 31, 2022, 2:20 PM IST