Shoaib Akhtar slams Abdul Razzaq's 'Aishwarya Rai' remark and former Pakistan stars for applause
In a heated response to Abdul Razzaq's controversial 'Aishwarya Rai' comment regarding the Pakistan cricket team's performance in the 2023 Cricket World Cup, legendary fast bowler Shoaib Akhtar slams the allrounder and former Pakistan cricket stars.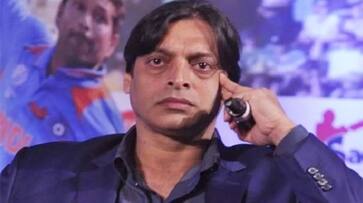 Renowned Pakistani fast bowler Shoaib Akhtar expressed strong disapproval of his former teammate, Abdul Razzaq, who invoked Bollywood actress Aishwarya Rai Bachchan while criticizing the Pakistan cricket team's performance in the 2023 Cricket World Cup. Razzaq's comment, which aimed to highlight the team's changing motive, garnered criticism on social media. Akhtar not only condemned Razzaq's inappropriate comparison but also lashed out at fellow attendees, including former cricketers Umar Gul and Shahid Afridi, for applauding without challenging the statement.
Taking to the social media platform X (formerly known as Twitter), Akhtar posted, "I highly condemn the inappropriate joke/comparison made by Razzaq. No woman should be disrespected like this. People seated beside him should have raised their voice right away rather than laughing & clapping."
In a parallel development, former Indian cricket star Mohammed Kaif weighed in on the Cricket World Cup scenario, remarking that the current Pakistani team appeared "too soft" and their pace bowlers lacked the intimidating aura of past legends like Wasim Akram, Waqar Younis, and Shoaib Akhtar. Kaif emphasized the contrast in demeanor, suggesting that the contemporary pacers, including Babar, Shaheen, and Rauf, lacked the assertiveness and fierceness displayed by their predecessors.
Watch - Razzak talking about Pakistan cricketers and Aishwarya Rai Bachchan:
Last Updated Nov 14, 2023, 9:40 PM IST