Asia Cup 2023: Gautam Gambhir issues warning against India's potential selection mistake
Former cricketer Gautam Gambhir raises a warning flag as India faces a crucial dilemma: the decision between Ishan Kishan and KL Rahul for the No. 5 position in the ODI lineup.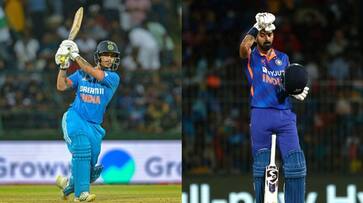 Gautam Gambhir warns India against a potential error in team selection for the Indian cricket squad. He advises against choosing KL Rahul over Ishan Kishan. The Indian cricket team faces a significant dilemma regarding the No. 5 spot in the lineup. KL Rahul has occupied this position in India's ODI team for some time, but Ishan Kishan's recent performance in that role has garnered praise. Many believe that Ishan should retain his place at No. 5, even if it means Rahul remains on the bench. However, there are differing opinions on this matter.
A debate about form versus record emerged between Gambhir and Mohammad Kaif on Star Sports regarding the selection of Ishan Kishan or KL Rahul for the No. 5 spot. Gambhir asserts that India should avoid making a selection mistake by not choosing Ishan over Rahul in the ODI team.
Gambhir stated, "India would be making a significant mistake if they prefer KL Rahul over Ishan Kishan" during a conversation on Star Sports.
He elaborated on his point by highlighting Ishan's consistent performance in recent ODI innings, whether as an opener or in the middle order, which, according to him, justifies his place in the team.
Gambhir explained, "The key here is that when you are preparing to win the World Cup, you should not focus on the player's name; you should assess their current form. You should select the player who can perform and help you win the World Cup."
"I believe Ishan Kishan has done everything necessary to be a top contender," he added.
During the debate, Gambhir even posed a hypothetical question to Kaif, asking whether he would advocate for Rahul's selection if players like Virat Kohli or Rohit Sharma had scored consecutive half-centuries, as Ishan did.
Also Read: ODI World Cup 2023: Australia names Cummins, Smith, Maxwell, and Starc in preliminary squad for despite Injury
He said, "If someone like Virat Kohli or Rohit Sharma were in Ishan Kishan's place, would KL Rahul be considered to replace them? The answer is 'no,'" Gambhir emphasized.
KL Rahul has returned to the Indian squad for the Asia Cup 2023 and is expected to be available for selection as Rohit Sharma's team faces Pakistan in their Super 4 clash on Sunday. Both Ishan and Rahul have been included in India's World Cup team as the two wicket-keeper batsmen.
While there will be competition between them for the wicket-keeper spot, both could potentially feature in the playing XI if the team management decides to bench Shreyas Iyer.
Also Read: ODI World Cup 2023: Rohit Sharma explains squad selection logic for the mega event
Last Updated Sep 7, 2023, 3:13 PM IST