Bengaluru Traffic can't stop Jonty Rhodes: Cricket legend relishes Mysore Masala Dosa and Mangalore buns
Former South African cricketer Jonty Rhodes, known for his affinity for India, delighted in Bengaluru's local cuisine, relishing Mysore Masala Dosa and Mangalore Buns at a recommended eatery. His tweet, crediting a taxi driver for the suggestion, showcased his enjoyment and gratitude. Rhodes' ongoing fondness for India, evident from naming his daughter after the country, reflects his deep connection.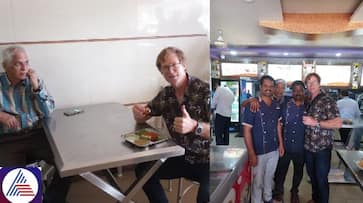 Former cricketer and South African cricket coach Jonty Rhodes, renowned for his admiration for India, was spotted relishing local delicacies at a Bengaluru restaurant. The ex-cricketer, who famously named his daughter 'India Jeanne Jonty Rhodes' owing to her birth in Mumbai, indulged in some authentic South Indian cuisine during a recent visit.
Rhodes, known as one of the finest fielders in cricket history, took to Platform X (formerly Twitter) to share his experience. He posted photos of himself savouring Mysore Masala Dosa and Mangalore Buns at a Bengaluru eatery, crediting a taxi driver's recommendation for the delectable pit stop. In his tweet, Rhodes expressed gratitude for heeding the driver's advice, commending the delectable taste of the local treats and capping it off with a cup of masala chai.

15th BRICS Summit: Gary Kirsten, Jonty Rhodes welcome 'Incredible India's' PM Modi to South Africa
The relaxed demeanour of Rhodes, evident even in the bustling Bengaluru traffic, drew attention from followers, some humorously remarking on their own taxi drivers' direct routes to destinations. Adding to the charm of his outing, Rhodes shared a picture alongside the restaurant crew, praising the "Awesome crew at #Bhagini Veg Restaurant Bengaluru."

IPL 2023: 'Captain is someone who likes to lead from the front' - Jonty Rhodes backs KL Rahul as LSG skipper
This delightful episode provided a glimpse into Rhodes' ongoing affection for India and its culture, a sentiment that has been evident throughout his career and personal life. The former cricketer, celebrated for his exceptional fielding prowess, holds an illustrious international cricket record. Rhodes was an integral part of the South African cricket team, dazzling fans with his acrobatic fielding and consistent performances.
His love for India found a personal touch when he named his daughter 'India Jeanne Jonty Rhodes' following her birth in Mumbai, an example of his deep-rooted connection with the country. Rhodes' cricketing legacy remains etched in history, remembered for his exceptional contributions to the sport, particularly as a game-changing fielder.
Last Updated Nov 21, 2023, 1:38 PM IST